Churches Inc in Kosovo -- Day 6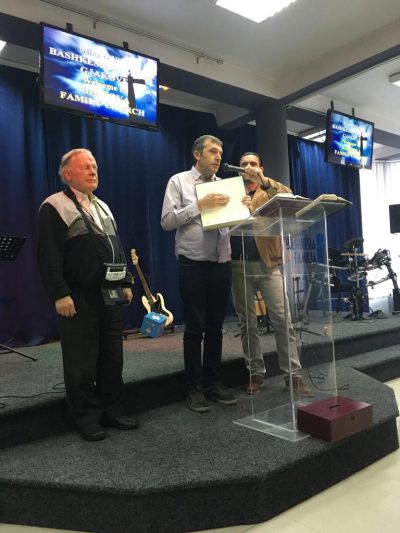 The Churches Inc team are hard at work in Kosovo from the 29th April to the 6th May, bringing a message of inclusion for disabled people, and working with the church and there to help communities welcome, encourage, and support disabled people. Please pray for them on their trip - we'll bring you blog posts from them as often as they're able to send them through. Here's the post from day six of their trip...
We can't believe we are at the end of our week here in Kosovo. We were at the Family Church in Kosovo this morning where we were given a truly warm welcome. I was able to show a Power Point presentation "Does God love disabled people?" This led on very well into Mike's sermon on the "Through the Roof" story. Mike's blind friend Gezim, from Pristina, joined us this morning and read the Scripture from his Braille Bible. The fellowship really took hold of the message and the pastor said he was going to think about how his church could be more inclusive and another member said they were going to refurbish the church and would definitely include a lift (yay! Their church is on the first floor, up many stairs).
We felt that it needed just one church to get the vision of inclusion, and then to share that vision with other churches.
Many from the church fellowship are invited back this evening for a BBQ on the only day when it rained!
More when back in the UK