Churches Inc in Kosovo - Day 5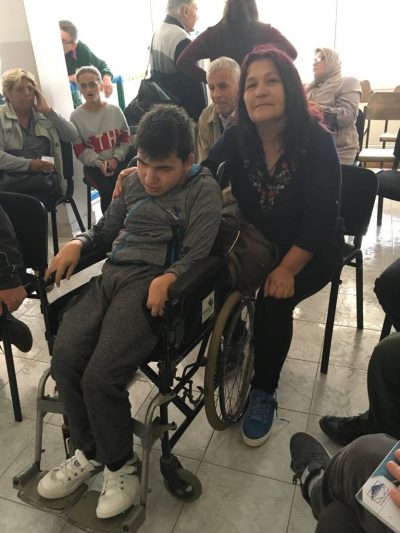 The Churches Inc team are hard at work in Kosovo from the 29th April to the 6th May, bringing a message of inclusion for disabled people, and working with the church and leaders there to help communities welcome, encourage, and support disabled people. Please pray for them on their trip - we'll bring you blog posts from them as often as they're able to send them through. Here's the post from day five of their trip...
This morning we joined the children at their Saturday club at the Gjakova Family Church. There were about 100 children, all very responsive. Alison did a parachute Bible story (the paralytic man) this went down very well. We left the parachute and parachute story book with them. Mike followed with an activity where he blindfolded a child and asked another to lead them. The children loved it.
The afternoon visit to Handikos in Rahovec was quite difficult in that the stories we heard were very sad and much the same as we've heard all week; lack of money for medication, little help with care for the disabled, inappropriate facilities and poor transport for clients, some who live 25 km away. On top of this the centre manager has Parkinson's and his medication had finished. He was feeling quite unwell.
Mike was able to talk to 4 blind people, one of whom was a bit of a pioneer, "the grandma for the blind", leading an organisation of 150 blind people. A great inspiration. We wished that others would have vision to set up similar networks to support each other.
We came away wishing we could do more but we identified a few areas that could be addressed by Ray who will go back soon.
Again, more requests for wheelchairs and walking frames. We heard too that wheelchairs are often left outside the home due to lack of space so they don't last very long.