Churches Inc in Kosovo--Day 4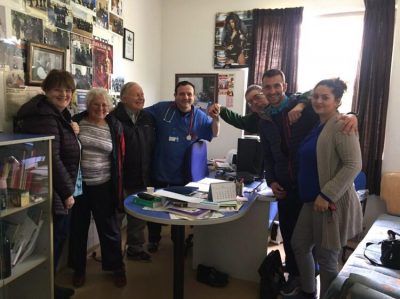 The Churches Inc team are hard at work in Kosovo from the 29th April to the 6th May, bringing a message of inclusion for disabled people, and working with the church and leaders there to help communities welcome, encourage, and support disabled people. Please pray for them on their trip - we'll bring you blog posts from them as often as they're able to send them through. Here's the post from Day four of their trip...
We started today with a visit to Handikos in Gjakova. About 40 people gathered, clients and staff and we sat round a large table to discuss their needs and issues. Many issues we had heard before: the lack of funding, the poor roads for wheelchairs, the cost of registering for disability pension ( 75 euros per month which many don't receive even if registered) many have to take medication for various medical issues, for which they have no money. Save the Children is funding projects at Gjakova but are withdrawing in August. The staff say they cannot sustain the centre long term.
Alison was able to pray with one lady, then two others asked for prayer too.
This afternoon we met with two leaders from the Blind Centre. We were told that 44% of blind people in Kosovo are under 40 and 95% of them are the heads of their families with little or no income.
They work out of a very dilapidated, run down, building for which they could not afford electricity. We felt they had little hope of change and were ground down by the constant denial of help and support from the government having been promised help, which had not materialised. We discussed possible ways to move forward for the long term improvement of support for blind people.
After two hours of impassioned discussion we assured them that we would support Ray in any way we can as he continues to lobby for change on their behalf.