Wheels in Nigeria 2018: Day 7 & 8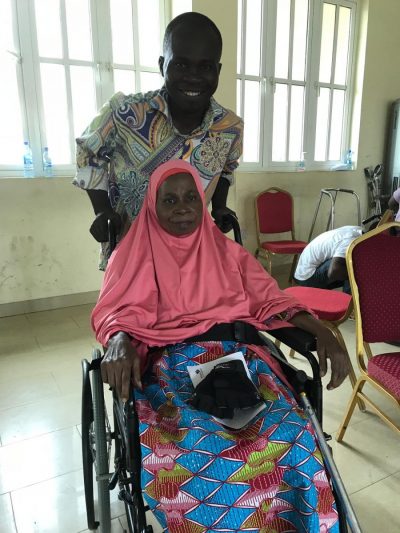 A Wheels team of ten people are hard at work in Nigeria this week - they'll be there from the 14th to the 24th November, and we'll bring you stories from their trip as often as the internet connection allows. Please keep praying for them as they work!
Day 7
Today the team were transported 1 and a half hours through Lagos to our other partner, Graces' distribution after a long delay for a puncture. Our drives through Lagos have been eye opening - today several of the team noticed a disabled lady literally rolling through the muddy road at the market - we could not safely stop to help her and had no equipment with us as the wheelchairs had been sent ahead - it was a profound moment that broke our hearts - how could this be happening in 2018? So many broken lives, so much suffering ....... come Lord Jesus. The distribution was v busy with lots of people being assessed for wheelchairs today. We were all particularly touched by the story of Demilade aged 12 who was abandoned by her parents at an orphanage 5 years ago. She is blind and has complex needs. Today we were able to fit her with a wheelchair which will enable her to be pushed around the home and cared for more easily - praise God!
Day 8
Today we returned to the Government Compound in Festac, Lagos. We were able to fit many children and adults with wheelchairs, buggies and crutches. In the afternoon many young athletes turned up who are training hard and would like to be in the Paralympics - weight lifting, basketball, volleyball too. They were all in need of new wheelchairs and were very grateful. This is Aberi- she had a stroke 10 years ago but also fell five years ago and hurt her back. Her sons were with her and clearly love her very much but were concerned about her being left alone in the house. She uses a stick but was very wobbly - we were able to give her a wheelchair for which she was very grateful- although she was most grateful of all for her Bible.