Churches Inc in Sierra Leone - Day 4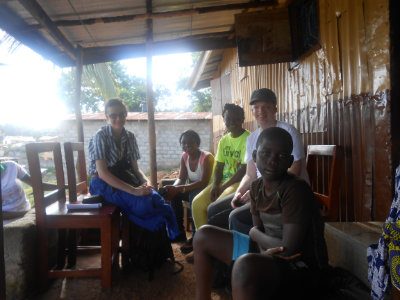 Through the Roof has a Churches Inc team in Sierra Leone for the next ten days. They'll be bringing a message of inclusion for disabled people, and working with the church and leaders there to help communities welcome, encourage, and support disabled people. Please pray for them on their trip - we'll bring you blog posts from them as often as they're able to send them through. Here's the team's report from the fourth day of the trip.
Today we visited local families in the community who are supported by 'Enable the children.' We met Sacho, who is loved and cared for by his family but has struggled to attend school due to a lack of understanding of his needs. Sacho is a 12 year-old boy living with his mother and sister on a fertile smallholding in Hill Stations part the Western district of Freetown. When he was very young his mother noticed that he could not talk clearly, is slow to respond and easily forgets things. Sacho has autism; he is not in school, but unlike some children in Sierra Leone has not been abandoned and left to wander the streets. He really enjoyed playing with our camera! We also visited three local schools to encourage some teachers to attend the workshop about autism and challenging behaviour - we'll have more information about how that went soon.