Wheelsblog - Kenya 2018: Day 7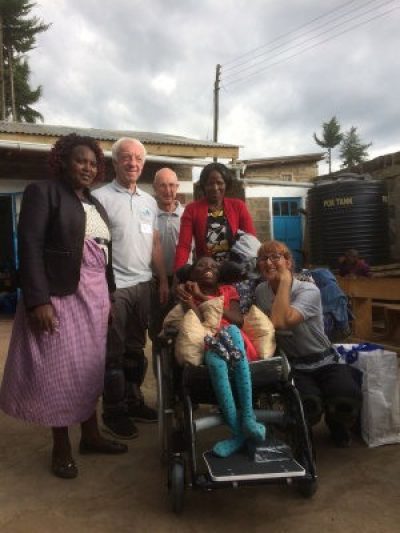 The Wheels for the World team are working around Elburgon, Kenya from the 5th to 15th September, bringing wheelchairs to disabled people around the area, and changing lives with the gift of mobility. We'll be putting up their blog posts just as often as the internet connection lets them send them. In this blog, team member Jill, recounts a small team trip to the village of Mariashoni, as well as the action from the main distribution centre. Please do keep praying for everyone involved with the distribution, and for everyone who receives a chair or mobility aid.
---
Our day started with Team Time in the hotel garden enjoying the sunshine before we went to the Centre. On arrival there were only sheep and chickens to greet us but soon clients arrived on motor bikes, taxis and foot waiting to be registered.
Today we sent a small team to the remote village of Mariashoni, 12km from town, which takes about an hour to reach due to poor road conditions. The team worked outside and were soon surrounded by what seemed like hundreds of pairs of eyes gazing at their skills. They saw 18 clients in a very short period of time as they had to return before dusk. As it happened they had to push the car out of the mud, which does not always come in the job description of a Wheels Team member!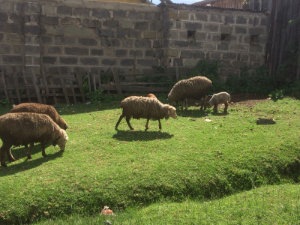 Pastor Davis has formed a special link with the village and was delighted that 5 men gave their lives to Jesus and promised to stop drinking. He knows a village family who live in a dark small mud hut 12'x10' so is currently building a new house for them since water rushes under the boy's mattress when it rains and comes through the roof. Two years ago our team provided the young boy with hydrocephalus with a wheelchair so he is able to go outside and sit in comfort.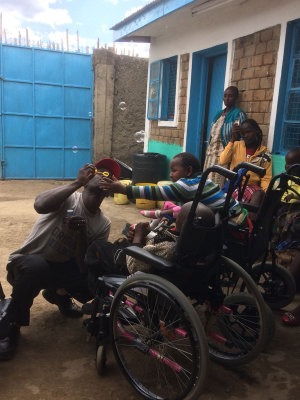 Back at base there was a sudden burst of activity late afternoon as a bus load of mothers with very disabled children arrived at the same time as several loud bursts of thunder. Their journey had taken more than three hours and after everyone had been given a wheelchair or mobility aid they had another long, journey home arriving well after dark. Whilst waiting to see the therapist Pastor Michael entertained the children with Grandpa Puppet and bubbles.
There were many ingenious solutions for complex seating and mobility issues now that many of the small children's chairs have been distributed and only adult size chairs are available. 'Creative foam solutions' are being refined and soft cushions using offcuts of foam save an enormous amount of time to provide corrective positioning. In addition, pulling the foam and filling the covers provides light relief for all concerned even if you do finish up looking like a foam snowman.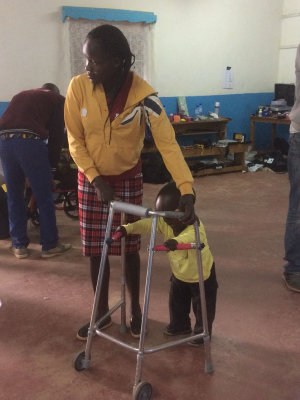 An adult frame was cut down to provide a walking aid for a small boy and hopefully it will not be long before he will be able to see over the top. Thankfully the rain held off until most of the work was done, but when it came barrels were put out to catch the rain for flushing the toilet. How much we we take flushing loos for granted!