Day 4 - Wheelsblog, Kenya 2018
The Wheels for the World team are working around Elburgon, Kenya from the 5th to 15th September, bringing wheelchairs to disabled people around the area, and changing lives with the gift of mobility. We'll be putting up their blog posts just as often as the internet connection lets them send them - here's team member Jill's report from Day 4 of the trip, their rest day around the Nakura Lake National Park.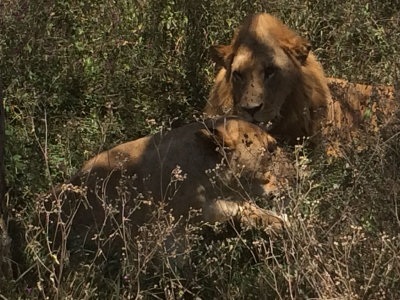 We had the most amazing day visiting Nakuru Lake National Park for a morning safari. It was well worth the early start (6:00 am!) as we watched the mist rising and the sun come up over the hills. The first animals we saw was a herd of buffalo, quickly followed by zebra, baboons, warthog, antelopes (Impala, and Thompson gazelles). We were extremely fortunate to briefly see a lion, not realising that later in the trip we would have a very close up view of 'The King of the Jungle' with his lioness resting closely under a tree. At the end of our trip we even followed a lioness whilst she was stalking a herd of zebra. Even the guide was amazed at our good fortune!
We also happened upon a herd of giraffes, whose nick name was white socks, a white rhino and the usual selection of buffalo, warthog, jackal and Impala. Other sightings included multi-coloured 'superb starlings', black and white kingfishers, egrets, a pelican, ostrich and a flock of shimmering pink flamingoes.
Another fascinating sight were the hundreds of dead trees that lined the shores of the lake, standing upright but dying due to increased salt content, casting beautiful tranquil reflections. We praise God for his beautiful creation and a day that surpassed our expectations.