Churches Inc in Tanzania: Final Blog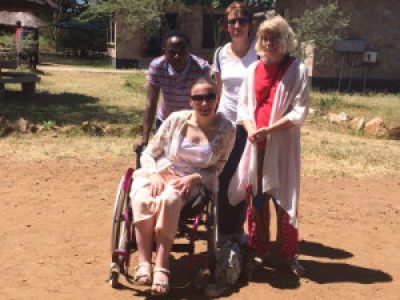 Janet, Abi, Katie, and Shaun visited Tanzania from the 6th to 16th June, working hard to deliver events and workshops, and to support church leaders and local work. Our Churches Inc. programme equips the church with a Christian perspective on disability, helping them to be fully inclusive so everyone is valued. Here's their report on the sixth day - Follow this link to the team's day 5 blog.
Final blog (jointly written in a plane somewhere over Ethiopia)
We survived the lions' den (literally) in the Serengeti and experienced some interesting off-road driving. It was a good opportunity for fellowship with Pastor Shadrack and his father (who has a disability himself) and a tour guide who is a member of their church.
As we leave Tanzania we are encouraged by the heart of Pastor Shadrack and his team for people with disabilities. We are privileged to have witnessed the work that is already taking place and to hear about the vision for the future including a centre for employment skills training. It is clear that there is a lot more work to do. We trust that by God's grace it will be completed.
One thing that has struck us has been that by providing a safe place for people to share their stories during our workshops, it was so powerful to see people with disabilities using their gifts and the impact this had, not just on us but on others in a similar position. There was a tangible sense that people were growing in confidence and their confidence was based on a renewed understanding of their value and identity in God.
The home visits were truly humbling. Any difficulty experienced by the team only served to bring into focus the difficulties that are faced on a daily basis by people living in these communities. It also highlighted the need for a diversity of different mobility and other equipment in order to best serve the unique needs of each individual and the situation they live in.
It was such a joy to be able to leave people listening to the word of God on the Swahili audio Bibles.... in the leprosy camp the sound of audio Bibles filled the air from different directions.
This trip feels to have been extremely worthwhile and despite the range of challenges in the lead up to the trip it appears that God has been, and is, working powerfully through it.
We are grateful to everyone in the UK who has supported and prayed for us and we ask that you continue to remember the work of Pastor Shadrack and his team in your prayers. In particular please pray for the ongoing work to complete the disability centre. It is wonderful to see a local team so committed to challenging cultural attitudes, including and valuing people with disabilities and sharing the gospel message with those who are so often excluded.
By the way, we nearly came back without Abi following a marriage proposal. However, we decided the dowry of 20 cows just wasn't enough for such a special person (and anyway we couldn't get the cows on the plane!)