Churches Inc Tanzania: Day 2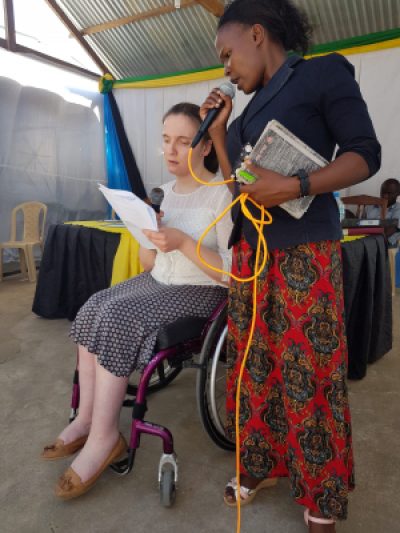 Janet, Abi, Katie, and Shaun are working in Tanzania from the 6th to 16th June, delivering and supporting Churches Inc leaders events and workshops. Our Churches Inc. programme equips the church with a Christian perspective on disability, helping them to be fully inclusive so everyone is valued. Here's their report on the second day - Follow this link to the team's day 1 blog
Day 2
Today's group sessions after the teaching on 'Made in the image of God.' During this time the delegates discussed the barriers to inclusion within the Church and also the challenges that they face in their communities to combat the cultural barriers to drawing disabled people in.
Katie, one of our team members who is disabled and uses a wheelchair shared about her own challenges and testified about the goodness of God in her life as she serves Him in her one weakness and how her disability beings glory to God.
Day 2 went very well. The group was smaller because the government officials weren't there, and with a different group of leaders. We met at the same venue as yesterday.
We were informed that the idea of group discussions are something that is completely new to the Church, not just in Mwanza but in the whole of Tanzania. When the people understood the concept some really intense debates began to ensue and we were requested today to shorten out teaching so that we could have longer group discussions.
We were requested to return to do a follow up Churches Inc. trip, but specifically to help the communities to change their attitudes towards people with albinism. One man by the name of Emmanuel who has albinism arrived at the Leaders Event today. Ps Shadrack said that the man lives in fear of his life because of the demand on his body parts and doesn't venture out much from his home especially around the time of governmental elections as this is when the demand is greatest for those with Albinism. Those who are of the opposition parties often promote this practice even though the practice is outlawed by law.