Churches Inc in Tanzania: Day 1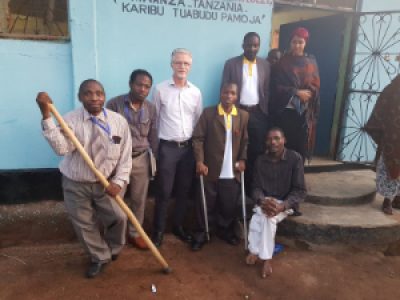 Janet, Abi, Katie, and Shaun are working in Tanzania from the 6th to 16th June, delivering and supporting Churches Inc leaders events and workshops. Our Churches Inc. programme equips the church with a Christian perspective on disability, helping them to be fully inclusive so everyone is valued. Here's their report on the first day - we'll keep you up to date on everything they're doing as regularly as possible.
Day 1 blog by Shaun Burrows:
Today was the first Leaders Event day. People began to arrive at about 12.20pm. By 2.30pm the room was almost full and we started with introductions. About 20 government and community leaders arrived and joined the pastors and church leaders. Altogether there were about 100 people.
Ps Shadrack had invited the head of the local Muslim mosque. He informed Pastor Shadrack at the end of the day that he was blessed by the teachings and the group discussions and that he was included.
It became apparent during a few of the group discussions that people with Albinism are are very common in Tanzania and are badly mistreated by people in their communities. It is very common for people to call them by the nickname 'dil'. This word means 'an opportunity to make money'. This refers to the cutting off and selling of body parts of these people as a means of earning an income.
Tomorrow's Leaders Event will be at a venue on the other side of the city and with a different group of delegates.