Finding Blessings in Unexpected Places (Ros' Blog)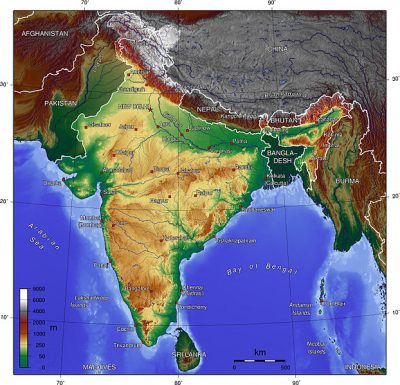 I've just returned from another trip to India. It's my third trip; I try to go in my annual leave as often as I can. I spend the time with friends, but also with a couple of projects that they run. I always look forward to these trips, but as they draw nearer I find myself feeling a bit daunted. Sometimes, by the time I step off the plane, I'm feeling so homesick that I just want to turn round and get on the next plane back home. It's for a mixture of reasons: Will I get sick again? Will my daughter cope with me being away? Will I be of any use or will I just be in the way? I've never wanted to be a "voluntourist".
And yet as soon as I meet up with my friends and they take me back to their home, I start to feel at home and am so glad I've come. I fall in love again with the young ladies they're working with. I lend a hand with some teaching, or teach the staff some techniques that will help a disabled child in their care. Best of all I get to share my testimony with them and see God at work in them.
I find it easy to sense the presence of God when I'm there, partly, I'm sure because it's a prayer-filled home, and partly because there are none of the usual distractions that draw me away from Him. There's no radio or TV, movie night is once a week only, and my phone doesn't work so I can't make calls or send texts. Stripped of these distractions it just seems easy and natural to focus on God and I do try to keep it up when I get home, turning off the radio, not taking my phone up to my bedroom, listening to worship music in the car instead of the news.
By the time my stay comes to an end I find myself reluctant to leave, and I can't wait until the next time I go back. I'm planning another trip the same time next year. I know I will be as blessed as I have been on the previous 3 occasions.
As I was reflecting on all this, it struck me as a good analogy for my life as a parent of someone with additional needs. When my daughter was born, just over 13 weeks early, I would have given anything to be able to step into a time machine and go back to where I'd come from, happily pregnant with more than 3 months still to go. I loved the baby I'd given birth to, I had desperate hopes and prayers for her, but still, I just didn't want to be where I was, watching her hanging onto life by a tenuous thread and waiting with bated breath to see if she would make it.
As time went on, life was fraught with difficulties, but also with unexpected joys. I often think that parents of disabled children live life to the full more than other parents. We plumb depths of anguish that thankfully most parents are spared. And yet, when you've been told that your child doesn't have the intelligence ever to learn any speech and gradually she starts to come out with words, when you've been told she will never have the use of her arms and she finally masters picking up a spoonful of food and putting it in her mouth, things that other parents can take for granted with their children, the heights of joy experienced are beyond anything you would feel if it was a child with "normal" prospects passing regular milestones. I shall reach the end of my life feeling I have really lived, really fully experienced the gamut of human emotions, and that is thanks to my daughter. So like my trips to India, as I settle into unexpected joys and as I give to the best of my ability, I find myself receiving far more blessing than I am giving out.
And again, as with my times in India, the whole experience of being not only out of my comfort zone but totally out of my depth in my experience of parenting has done much to strip away the things that distract me away from my relationship with God and has taught me to depend on Him in situations where my own powers and resourcefulness fail me. I know that if it were not for my daughter I would not have learned to lean on God or grown close to Him in the same way.
And just as, when my time in India comes to an end, I find myself longing to go back again the next time, so my initial shock and panic about finding myself with a severely disabled child has given way to a real contentment in my relationship with her, a knowledge that she has enriched my life and that my ongoing relationship with her will continue to be a source of joy into the future, something that I look forward to with eager anticipation.
[Photo of a map of India and
Wheelsblog: Uganda 2018
A team of ten are representing Wheels for the World in Butaleja, Uganda from the 11th to the 21st April. Team Blogger, Phil, is sending back videos, photos and other reports whenever the internet connection allows, and we'll get them all online here. Please keep praying for the team, as they bring wheelchairs and other mobility aids to disabled people in Butaleja. Thank you all for your support and prayers! We're always looking for new team members, so please do contact us if you'd like to find out more. Wheels for the World is supported by your donations - please visit our donations pageto help keep the work going.
Videoblog Playlist
You can watch all of the videos so far in this playlist window - click on the menu button (three short lines) to select individual videos.