Churches Inc in Kenya 2018: 3 & 4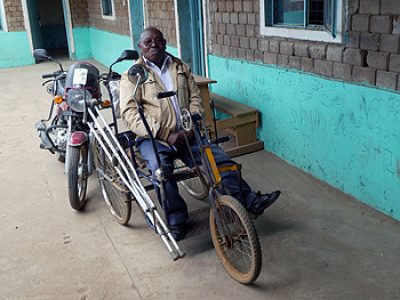 Kerry and Trevor from the UK, plus Pastor Shadrack from Tanzania and Pastor Davis - the host and teacher - are hard at work in Elburgon, Kenya for Churches Inc from the 7th to the 17th February. They'll be sending back updates and stories from the trip as often as time and internet connections allow. This is their third update, covering days 3 and 4 of work - you can find the second one here.
12th Feb / Workshops
We held our first workshop for parents and their children, as well as adults with disabilities. In the workshop, we have tried to make things much more practical and interactive.
Our translator, Margaret, is a fully trained specialist in education for children with disabilities. So she actually went beyond translating to helping with the teaching itself.
We focused on two simple issues that people could immediately apply in their own lives. Preventing pressure sores and preventing back injuries during manual handling. For both these issues, many people cannot afford treatment so it is very beneficial to learn how to avoid a problem. Margaret, who works purely with children and families in this country, affirmed that these messages were very important.
I am demonstrating different 'wheelchair exercises' that can take the pressure off to prevent pressure sores from sitting all day.
I am showing photographs of what pressure sores look like as they develop. We showed people where to check the skin on their bodies, with help or using a mirror. Several people in the room put up their hands to say they had seen such pressure sores before. If neglected, a pressure wound eventually becomes so deep, it exposes the bone.
This is 'Alex', a doll that was given to me at the last minute by my church. Alex has proved very popular during workshops in terms of engagement and helps me to demonstrate things in a way that everyone can understand. I would not wish to do demonstrations with the children who came because I do not know them very well and they do not know me very well and it could make them uncomfortable or upset.
We discussed that it is not good to be lying in the same position all the time. I gave parents a handout with photos of children sitting/lying in good or bad positions that come from similar country contexts. It is very common to see children lying on a mat or mattress with no other form of support so we looked at using towels/cushions to improve positioning and avoid sores.
For preventing back injuries, we looked at basic body mechanics (bend knees, feet apart, don't twist) when lifting and carrying children, which happens often here. If the person is older and bigger, we demonstrated lifting with two people using good teamwork. All the practical demonstrations were received very well by the group.
Then we split into discussion groups to enable the people attending to share their most pressing questions and issues. Our approach was to facilitate the discussions and throw the questions out to the whole group so that Kenyans were coming up with solutions for each other based on how things work in this country.
In the parent group, I was very impressed with the dedication of the parents to doing the best they can for their children under very challenging circumstances. You can really see the value of parent support groups. Those who had gained confidence in this community to express love for their child are an example to other parents of children with disabilities and the wider community.
To the right is Faith. She is partially deaf and still waiting for a hearing aid because such devices are not easily available from the government.
To the left is Steven. He was born as a twin with global developmental delay. When his father saw him in the hospital, he left the family. His mother turned to her own parents for support. Steven's grandfather took them in. He explained that he has come to love Stephen dearly.
We met David, who is 11 years old and has Downs Syndrome. His father was so affectionate towards him and declared that he even loves David more than all his other children because he has spent so much time finding out how to support David better. He was so keen to learn anything we might have to share that would benefit David.
Michael is 8 years old. His mother explained that he has has Autism. He is going to school, but the teachers are asking her to do toilet training at home. Fortunately, since I teach students with autism who have a similar problem, I could advise her on consistent routines and prompts to use.
Another girl has Spina Bifida. She is going to school and has been taught to independently use a catheter, but she has nowhere private to go to do this. Amazingly, Margaret, our interpreter is doing a research project for her Masters on Spina Bifida. She was able to give very specific advice and agreed to call the school to discuss what can be done.
We also discussed that while some children with disabilities are starting to go to school, as that is the law in Kenya. They may not be able to use the pit latrines, which is a big problem. We discussed solutions such as placing a plastic chair with a hole over the pit latrine. Pastor Davis agreed to start pushing more schools to be seeking to make at least one toilet accessible.
These wonderful ladies from the church came to cook lunch for everyone, sacrificing time where they could be earning much-needed income for their own families.
These chairs are made out of paper by people at the centre as a temporary measure until people are able to get a wheelchair at one of our distributions.
13th Feb/ Workshops
On Tuesday, we went to a very rural area that is not easily accessible. When we arrived at the church, there were many people with disabilities, including children and their care-givers waiting outside.
We discovered that the church building was locked. The church elder took Pastor Davis aside and told him that we could use a small room at the back of the building rather than the main church hall. There were too many people and Pastor Davis insisted that we use the hall.
When we had all settled inside, Pastor Davis began introductions of various key people attending. There were representatives from the local MCA (politician/government offices). There were community leaders who had personally invited many of the people attending.
When Pastor Davis thanked the church elder for welcoming us into the building, he publicly stated that this building was a 'holy place' and therefore next time, the people with disabilities should meet in a different room, not the church. It was a clear rejection of those who had come. Pastor Davis very wisely responded using the Bible story behind the name of 'Through the Roof'. He reminded everyone that Jesus encouraged people with disabilities to approach him for healing in the temple and just outside the door. He did not turn these people away. And when the friends of the paralyzed man broke through the roof to bring him to Jesus, was Jesus upset or offended? No, he was pleased with their faith and their actions. So Pastor Davis concluded quite boldly, 'if you locked the doors of this church, we would find a way through the roof!'
Thankfully, at this point, the pastor of the church arrived. She is responsible for 8 churches within the Presbyterian Church of East Africa. She had only been placed in this district; one month ago so is just getting to know people. She was very positive about the purpose of our training and told the group plainly, that they are welcome in any of the churches in her charge.
Soon after our introductions, Pastor Davis disappeared slightly mysteriously. We had been left in the very capable hands of Margaret, a fully trained specialist in education for children with disabilities. Margaret did an amazing job, translating for us all day and giving her own valuable input.
We found out later that the reason Pastor Davis left is that a local chief had told him there were three families nearby who were keeping someone with disabilities hidden in the house. Pastor Davis persuaded them to open the door by offering a soda. He managed to meet those individuals and start to break through the isolation of the family.
We have been reliably informed by community workers in this area that there are still many, many families who are hiding relatives behind closed doors. As this is such a rural area, it is not easy to reach all these homes. It may involve walking over the hills to find people. There are deeply ingrained negative beliefs about disability in rural areas. For instance, our team member Pastor Shadrack had shared in his testimony how in one village in Tanzania, you could be killed if you were born with a disability, and yet when his disabled father moved to another village he became a pastor. So depending on the beliefs of the community, it can be very hard in some places to live with a disability.
All this highlights the importance of what we are doing. Today's workshop was very special. After the initial battle to get inside the church, the warm welcome of the pastor clearly communicated the 'Churches Inclusion' message. I publicly thanked the pastor using the passage in Corinthians that speaks of the body of Christ and the fact that certain parts of the body may be viewed as weaker or shameful, but 'the parts that seem to be weaker are indispensable'. I said that the church would be enriched for choosing to open the doors to people with disabilities. Both Trevor and I were able to share how God's purposes have been worked out through disability in our own experiences.
There is an amazing common ground in my testimony and Trevor's. In both cases, we have seen a person with disabilities lead another person to Jesus.
My sister, Kirsty, was born with a condition called Leukodystrophy, which gets worse over time. When she was young, my sister really questioned, 'why has God made me this way?' She wanted to get married and have a family, but it was not possible as her prognosis was that she would not live into adulthood. So she was questioning, 'what is my purpose in life?' At that time, I had a strong faith and replied, 'I don't know what your purpose is, but I know that God loves you'. I reminded the parents in the room that Kirsty could not possibly believe my words if I did not show her love daily.
That therefore, every care-giver has a very important calling to represent the heart of God through their daily actions. Nevertheless, Kirsty could not accept my words. She had to personally wrestle with things, but in the process God met with her powerfully. From the day that she asked to be baptised, Kirsty's faith went from strength to strength. Though her body weakened, her spirit was revitalised and she was full of the fruit of the spirit: love, joy, peace, patience, kindness. She told me, 'I don't believe it is God's will for me to be healed because then other people in painful situations would not listen to me or believe me when I tell them about Jesus'. She wanted other people to find the hope she had found.
In my university years, I really doubted God's existence and went my own way. Kirsty was one of the key people who drew me back to Jesus. It was wonderful to be able to encourage this group of people who face extreme difficulties in their daily lives. On my own, I would have rather pathetic things to say in the face of their struggles. But when I tell them of Kirsty's struggle and how God met her there, they listened. When I said that a person with disabilities brought me back to Jesus, some faces lit up.
Similarly, Trevor was able to share how his daughter, Ellen, who has cerebral palsy, displays the fruit of the Holy Spirit and draws people to herself and manifests the glory of God. In fact when Trevor's father in law was very ill with cancer, he held Ellen in his arms and received such comfort that he was drawn to Jesus. In time, both Trevor's father and mother in law came to believe in Jesus as a result of Ellen's witness.
It seems that this particular message was needed at this particular time in this particular place. Trevor went on to preach about being 'made in the image of God' and about the fall and about the good news that Jesus came for everyone. That no one is excluded from the offer of forgiveness. That our primary purpose in life is to enter into relationship with God through Jesus Christ and that this is possible for all.
I felt led for the first time in my life in a public setting to invite people who wished to come to Jesus for the first time to stand. I shared that when I had gone my own way, God came looking for me. I resisted but finally became so desperate and hopeless that I wanted to turn to God but was afraid he would not accept me after I had ignored Him for so long. But as soon as I reached out to God, He tenderly responded to me. That if they wanted to respond today, they could because of Jesus' sacrifice on the cross.
I also invited those who already loved Jesus but needed courage to keep pursuing God and His purposes for their lives to stand. Those who could not stand were invited to raise a hand.
Thirteen people stood to pray: amongst them were mothers and fathers of children with disabilities. There was one child and there were several adults with disabilities. It was a very holy, God-given moment and I can quite honestly say I have never experienced anything like it in my life.
Trevor kept saying in his message, 'if you were the only person on this planet, Jesus would have come and died for you. Jesus left the perfection of heaven and came to earth. He suffered. He was rejected. If you have been rejected. Jesus knows how you feel. He was beaten. He was crucified. He did all this for you.' Even though Kenya is a very Christianised country, there is a group that may have never been personally invited to make Jesus their saviour. We wanted to ensure that this group was clear that the way is open to them. They are not excluded. They can be adopted into God's family. Furthermore, to be told that they have worth and value in God's eyes and that God can even use them powerfully. I saw real joy on some faces at those words and a readiness to look beyond their own situation to what God wants to do through it.
Only God knows what has taken place in the hearts of people today, but we felt very much that we were given the right message for the moment and that while we cannot fix all the problems that people are facing- Jesus is willing to walk with them day by day and once we are his, 'no one can snatch us out of his hand' and 'nothing can separate us from his love'.
Pastor Davis intends to hold a Gospel Crusade in June, which focuses purely on people with disabilities. This is quite a radical idea for this area. We could say that he is targeting an 'unreached people group'. For many years, Pastor Davis has been attending very holistically to the needs of the people he will be inviting, which means that he is not preaching one message with his words and a different message by his life. They will come to listen because he has already demonstrated that their lives matter to God in many different ways. I think that Through the Roof has a similar opportunity to minister holistically to people's spiritual and practical needs. For example, when we distribute wheelchairs and Bibles.