Silver for Roofbreakers!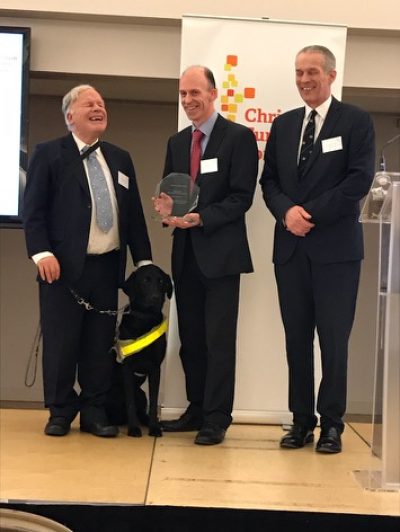 We're excited and grateful to have received the silver award in the 'Best Project for Advancing the Christian Faith' category at the Christian Funders' Forum Awards at Methodist Central Hall, Westminster.
Through the Roof was among several others that were shortlisted for the annual awards which celebrates the great work done by grassroots organisations across the UK.
"We were surprised but delighted to receive the award," said Tim Wood, our CEO. "Our networks of 'Roofbreakers' are active in churches all over the UK, helping them to become more aware of the needs of their disabled community and make provision to include and enable everyone, regardless of abilities and impairments to play a full part in the life of the church."
As budget cuts continue to place added strain on local authorities, health services and police forces, churches and Christian charities are responding by providing innovative solutions to problems at the heart of our communities.
Those who have benefitted from support from Through the Roof include Jane (not her real name), who recently encountered our work for the first time and discovered, "As soon as I walked in I could feel the love between everyone". Jane has started to attend church and wants to join a Bible study group.
"So much of the incredible work that goes on in our communities is largely unseen and mostly unrecognised. The Christian Funders' Forum Awards are about putting the spotlight on the work of churches and charities whose volunteers live lives in the service of other people," says Matt Bird, Chair of Christian Funders' Forum.
Each year members of the Christian Funders Forum (CFF) give over £30million to Christian mission both in the UK and overseas. Some of the most innovative projects funded by the member organisations over the past year were recognised at the awards ceremony in London.
A big thank you to the CFF, and to all of you, TTR's supporters!