20 years of TTR!
Happy Birthday! Through the Roof has been celebrating throughout 2017, and the peak was our gathering at St. George's, Ashtead. Nearly 200 supporters of all ages and abilities joined together to give thanks to God for 20 years of the charity with a fully inclusive worship service.
Many attendees said the service had inspired them, and committed to head home and do more. Christine, a faithful volunteer over many years, told us, "I found it thrilling to be part of one of the most diverse church services I've been to. The service content was truly inspiring and I want to do more to support TTR."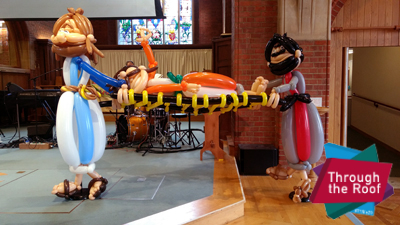 Leading the service were people with physical and sensory disabilities and parents of disabled children, and the centre-piece of the event was a life-size balloon structure depicting the through the roof story. Created by 'Inspired Balloons', it captured everyone's imagination and featured in many photos on Facebook!
The order of service was available in large print and braille, and speech was signed into BSL by interpreters, all with the goal of welcoming as many people as possible. One Mum of a disabled person enthused, "My daughter really enjoyed it and felt at home because there were so many other people in wheelchairs."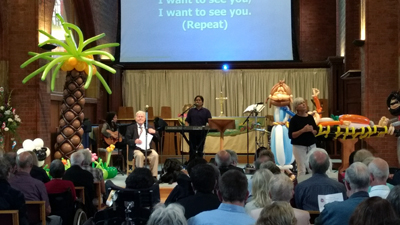 Pastor Davis, our partner in Kenya, sent his congratulations, "The charity has done an immensely great job in transforming the lives of many people with disabilities and their families in developing nations. Thank you for partnering with me in Kenya and making disabilities known and treated with dignity. Your staff and volunteers have always shown love, kindness and patience to my people. CONGRATULATIONS AND GOD BLESS ALL."
Joni Eareckson-Tada recalled the small beginnings of Through the Roof in an affirming video message, and gave praise to God for everything that's been achieved since those days. Jenny Edwards MBE read the 'through the roof story' in Mark chapter 2 from the Accessible Bible, and worship leader Thuy Mallalieu, who is himself blind, sensitively led the congregation in a time of praise and singing. Rev Jonathan Edwards preached, describing the love and determination of the men in bringing their paralysed friend to Jesus, and that one of them must have taken the lead in this enterprise. He challenged us to find 1000 Roofbreakers in 3 years, to enable disabled people to come to Jesus and be active participants in the life of the church – a big task!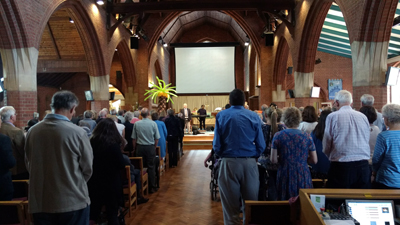 We currently have over 110 Roofbreakers, who have all received a free starter kit, encouraging monthly email and are part of a growing network. Could you join this growing family and advocate for disabled people in your church? Please contact us to sign up, or follow this link to learn more.
Could you hold a celebration for Through the Roof in your own home? Follow this link, and we can provide you with a pack of everything you need to join us in celebrating 20 years of changing lives.