Wheelsblog: Kimilili 2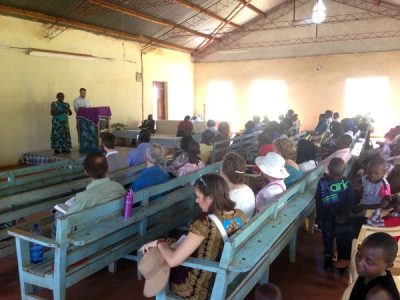 Here's the second report from the Wheels for the World Kimilili team, covering Sunday, Monday and Tuesday. The team are hard at work until the 17th February - please do support them in your prayers over this time. If you head on over to our Facebook page, you can see a couple of short videos from the trip.
Sunday (Day 3)
Church yesterday as a team. Bonus points if you recognize the preacher - such a clear message! We had a chance to talk about disability also - one member of the choir was an amputee, great to see inclusion of disabled people in church.
Spent a nice afternoon as a team walking to see the mission hospital. In the evening as a team we have had times of worship and teaching on the theme of "The God who is Love". Looking at how God's love works out for Hagar, Rich young ruler, Lazarus and more. Every year I think we have the best Wheels team ever, and this year is no exception- being in a kind and patient team who love and care for each other is a joy.
Monday (Day 4)

We travelled to Natiri, a town east of here to do a community distribution. This is a great way of getting out and openly valuing disabled people- but has challenges for us, so we valued prayer for all the little details working out, and that people would get quality chair fitting. What a day! Finished at 8pm! We saw over 50 people. Team happy but exhausted. So so many stories.
Got a chance to talk on local TV today. And visited by an MP's rep who promised he would champion tax free wheelchair parts for import. Amazing.
Tuesday (Day 5)
Had this flatbed pickup turn up this morning crammed with disabled people just sat in the back. They were unloaded by their helpers like sacks of potatos. Really really sad and moving. But praise God they are all going home with a wheelchair!
Last day in Kimilili today. Smaller number, 8 came from just one school, but amazing to see their teachers keen for them to have chairs and placing great value on educating disabled people.
Tomorrow we go early to Eldoret for an afternoon distribution. Then 2 days there. We are looking forward to Paul, Michael and Sally joining the team for this second stage. It's exciting, but there are lots of prayers needed for the team with change of scenery and team dynamics. Thank you!