Meet the Bravest of Britain! (Ros' Blog)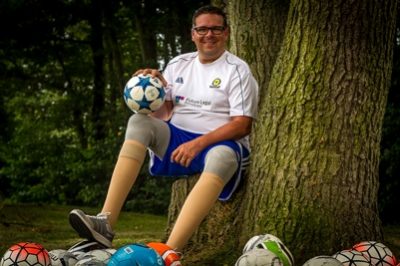 I recently had the privilege of talking to Mark McGowan who has just been awarded both the Community Champion award and the Bravest of Britain award in the Charles Holland Awards for Brave Britons 2016, sponsored by Amplifon. Mark is a minister who lives in Farnborough with his wife Jo and their children Millie, Ella and Caleb.
Hello Mark, and thank you for agreeing to talk to Through the Roof. Can you tell us a bit about your background?
I was born without fibula bones and had my lower legs amputated when I was eighteen months old. My parents got saved partly through that experience, and so I grew up in a Christian home as a result. I also grew up loving football!
When and how did you become a Christian yourself?
Through my disability I always had a relationship with God, but in my late teens I really developed that relationship with Him through missing so much schooling. I backslid between the ages of seventeen and nineteen, but through meeting Jo who later became my wife, I started really following Jesus seriously.
What difference did knowing Jesus make to your life?
I knew I had someone to speak to twenty-four/seven. I had an inner peace to cope with my disability, to know who I was and why I was like I was.
What led you into full time Christian ministry?
Three weeks after Jo and I were married, we were approached by our church and invited to help with the youth work. We prayed and felt it was right to say yes. We ran the young people's work voluntarily for four or five years and then the senior pastor asked us if we would take on the ministry to children and young people as a paid role. Over time the role has developed. We're no longer working with the church's children and young people, but ninety-nine percent of what I do is community ministry, reaching out to the children outside of church mainly through football coaching. I'm doing much more outside the four walls of church now, reaching out into the community.
How did you get into Faith and Football?
I've always loved football, but I couldn't play as a child because of my disability, which was difficult. I became aware of a need in quite a deprived area of Farnborough and wanted to do something about it. I was put in touch with Faith and Football in Portsmouth which was started by Linvoy Primus. With the help of Faith and Football I started a league in this part of Farnborough. We now have fifty-eight children registered with us, and through them we're reaching a total of over forty families. This has opened doors into local schools, and given opportunities for discussions with local people in the community.
What motivates you to serve the community in this way?
I just want to share the love of Jesus to local children and the community. I believe Jesus should be out in the community, not just in church buildings.
You recently achieved the amazing feat of climbing Ben Nevis to raise funds for Faith and Football. What made you decide to do it?
Last year on New Year's Eve we got together with friends and we just started discussing the coming year – shall we do something challenging? And I Googled the highest mountain in the UK and found it was Ben Nevis, so I decided to climb it. I prepared by doing stamina walks and long walks getting accustomed to steep gradients and getting used to walking with crutches, which I would need on the climb. I did eight months of training. On one training walk one of my prosthetic legs snapped and I had to be carried back to the car. I had blisters and sweat issues around the prostheses, things any amputee faces. The climb was the hardest thing I've ever done in my life. From New Year's Day onwards I had confessed out loud every single day that I was going to climb Ben Nevis on October 3rd. On the day the weather was absolutely perfect. There was no cloud, but it was a very long, very hard climb. It took us seven and a half hours to the summit and six hours back down. Some of the non-disabled people in the team struggled with it. At the summit I was so blessed to get enough phone signal to be able to ring Jo and share the experience with her, which was special. I felt totally overwhelmed but really proud of myself. Coming down the last two hours were in the dark, which was quite scary. I just felt relieved to get back to the minibus.
Tell us about winning the Amplifon Charles Holland Award.
I was nominated by Paul, one of the team who climbed Ben Nevis with me. He nominated me in the Community Champion category, which is awarded to a member of the public who has made a significant or inspirational contribution to their community. I received a call to say I had been shortlisted and inviting me to attend the ceremony. I was quite humbled to hear the other nominees' stories. It was really unexpected to win the Community Champion award, but I was overwhelmed to also win the overall Bravest of Britain.
Many people reading this blog will be disabled Christians who could use some encouragement. What would be your message to them?
Know who you are in God. God has a perfect plan for you. I love Jeremiah 29.11 – "For I know the plans I have for you says the Lord, plans to prosper you and not to harm you, to give you a future and a hope." At times I ask the question, "Why God?" but deep down I do know why, because I'm able to share my story with others and I know God has a perfect plan for my life.
If you had the opportunity to be miraculously healed tomorrow, would you take it?
No. Because God has made me who I am.
Thank you so much for sharing your story with Through the Roof.