Planned International Trips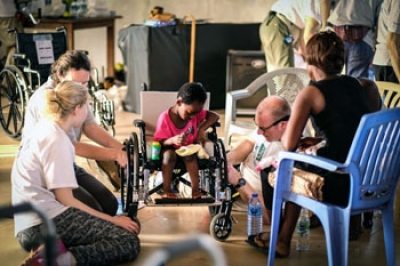 Upcoming Wheels for the World trips.
Uganda (Bidi-bidi refugee camp): 3rd – 13th of May 2023. There a few places left. The roles that we need to fill are one therapist and one techie.
Kenya (Eldoret): 8th – 18th November 2023. Partnering with Rev Grace Nyambura Eldoret, and Ruth Nabi in Kimililli. We encourage people to start applying now.
Rwanda: 7th to 17th February 2024.
Zambia: 8th to 18th May 2024. Partnering with OM.
Kenya (Elburgon): 14th to 24th August 2024. With Rev Davis Gatua.
Please email Kathy Birch Kathy@throughtheroof.org to apply or get more information on any of the above trips.
Upcoming Churches Inc. trips
Kenya (Elburgon): 25th November – 1st December 2022. This will be a partner-led event where our volunteers will be there as a support to the partner's programme to engage the community to include disabled people.
Rwanda: 17th – 27th January 2023. This will be a Through-the-Roof-led event. We would like to have a few volunteers who can teach our key messages to be on this team.
Zambia: 4th – 14th October 2023. With Ruth Bullock (OM Zambia)
Please email Shaun@throughtheroof.org to apply or get more information on either of the above three trips.
Over the past year and a half, as things began to open after the pandemic, we encountered some challenges that were because of changing laws in some countries. These changes affected the shipping of our consignments of mobility aids, and the ability to get volunteers' visas. This led to our being unable to send a team of therapists to Mozambique in August this year, and the postponing of our India Wheels trip to next year. Please bear with us as we negotiate through these changes.
If you're interested in volunteering, or supporting these life-changing trips, please contact our International Missions Manager, Shaun, by email by following this link, or get started on your application by following this link.
We'll bring you more details of future plans as soon as we can.
Each trip changes hundreds of lives, but costs thousands of pounds to run. Could you help, by fundraising or making a donation?.