Day 11- Saturday (Wheels in Elburgon 2016)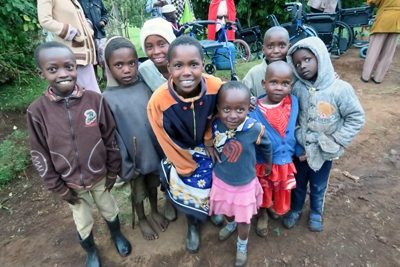 John and Gunn woke very early as they were catching a flight nearby to enjoy a short safari holiday in the Masai Mara. Thankfully Pastor Davis and his wife, Ruth, accompanied them in the taxi as the 'airport' was an unmanned clearing in the forest with no shelter and only a rickety bench without shade. It was unsafe for them to be left alone, as they could be attacked and robbed by locals wanting money from rich mwazungu (white man), or stampeded by zebra and impala. When the plane finally arrived it was a small 12-seater and Pastor Davis was not allowed to leave the 'airport' until the plane was airborne as it might not get into the sky!
Meanwhile Shaun, Roy and Jill were relaxing in the hotel grounds, which were ablaze with colour from indigenous plants. There was a large poinsettia tree which looked very different from the poor specimens you sometimes find at Christmas time, and a bottle brush tree was silhouetted against a cloudless blue sky.
After a relaxed lunch we loaded our luggage in the taxi and set off for Nairobi Airport. We had no idea that it would take 6 hours, as the traffic and driving conditions were poor due to many people taking risks when trying to overtake, the roads being crowded with pedestrians in towns and villages and sheep, cattle and donkeys grazing along the roadside when driving through more rural areas. It was a memorable way to finish a challenging trip.
Overall we registered 165 clients and seated 103 clients in wheelchairs or buggies, gave out over 40 pairs of crutches, 8 walking sticks and several rollators and zimmer frames. Each person received a bible and prayed with the pastor before returning home. Many lives have been changed as clients are now able to become integrated members of their communities or attend school for the first time. Let's give God the glory!