Day 9 - Thursday (Wheels Elburgon 2016)
A lovely sunny morning again and we all enjoyed walking from the hotel to the centre taking in local life on the way – sheep and goats wandering across the road, little toddlers helping dad fill tins with charcoal to sell and stall holders washing plastic flip flops and shoes before displaying them for sale.
We had a lovely welcome from the nursery school children and their teacher in the classroom next to the centre – all smiling and waving and singing for us as we entered the compound. Teaching pre-school children is a challenge for anyone, but it takes someone special to have 48 children in her class enjoying their initial school experience.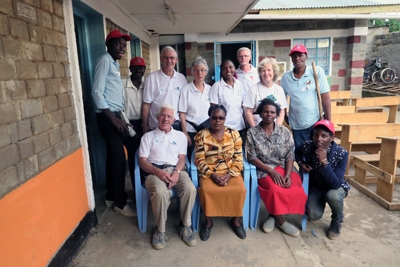 There were not many chairs left and we were conscious that several children would be coming although fewer were registered. Amazingly God provided and chairs were found for all who turned up except for a couple who had very particular needs.
Jill had two very complex and challenging children, but with the help of Roy and the rest of the team we were able to provide a couple of very satisfactory chairs with adapted seating after many hours work. Many families left having had their lives transformed, clutching their bibles and wearing a huge smile.
Also, we had another first (on the last day of distribution!) as we finished our work in daylight and were able to walk back to the hotel, encountering a minibus in the town with two wheelchairs strapped into the roof. Roy checked that they were securely tied and suggested another piece of rope as they were a little wobbly! We prayed that they would arrive at their destination intact so that the children would be able to experience being an integrated member of their community whilst giving glory to God's goodness and provision.