DAY 5 – Sunday (Wheels Elburgon 2016)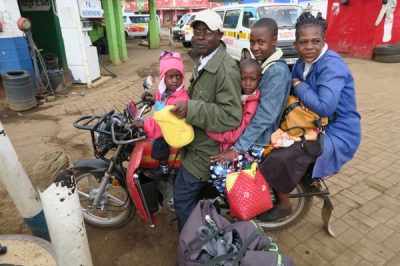 A team from Wheels for the World are hard at work in Eldoret, Kenya from the 31st August to the 5th September - we'll bring you blog updates from them as often as possible.
It was a beautiful sunny day so time for a quick stroll in the garden before breakfast. We walked from the hotel to church taking in the sights and sounds of the town, and meeting a family of 5 on their way to church all crammed on a motor bike! At Church we were greeted by many members but had difficulty remembering their names as they were all spruced up in their 'Sunday best' rather than grovelling of the floor with a spanner! A few people were singing to loud music, whilst the children went to their Sunday School lesson and Young People went to their bible study.
The service started at about 11a.m. as people were arriving in dribs and drabs and then it 'took off' with singing, dancing, preaching, reading of the Word and contributions from young people and children presenting their songs and dances. The team were welcomed and introduced and Jill gave a short talk about the work of Through the Roof and Wheels for the World. Roy spoke about his experience as the parent of a severely disabled child.
The service finished with Shaun giving a short talk. Pastor Davis then asked Jill and Gunn to encourage the group of single mothers in the church who are pastored, trained up in a skill or trade and are supported by Pastor Davis and his wife Ruth, and the church leadership. We arrived back at the hotel just before 3p.m. and had some lunch before team time and going out to supper.