DAY 4 – Saturday (Wheels in Elburgon 2016)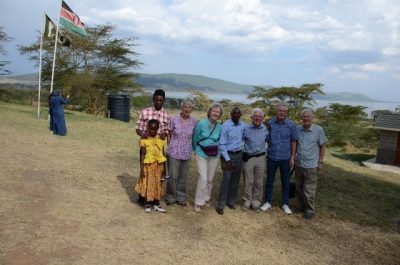 Wheels for the World are running a wheelchair distribution in Elburgon, Kenya until the 10th September 2016. We'll bring you stories from the trip as often as possible...
A day of rest and relaxation – hallelujah as we were able to have a lie in! We were collected from the hotel at 9a.m. (African time i.e. 9.30 or so!) to go to Nakuru National Park to see the animals that are in this local reserve. We were joined by Pastor Davis and two of his children, who although they live locally had never been there before. We stopped in Nakuru on the way to sort out the problem with the modem (yet again!) and pick up a picnic lunch.
Arriving at the Park about midday, we were joined by a guide to take up through the park. It was a beautiful sunny day and we had lovely views of the lake as we drove round its perimeter. We saw water buffalo, warthogs, zebra, giraffes, impala, waterbucks, baboons and a wide variety of birdlife. We finished the trip with lovely views of flamingos by the lake and buffalo in the background.
On the way home we stopped in Nakuru for coffee and a snack and arrived back at the hotel about 6 p.m. to change and enjoy a relaxed supper and some team day before bed.