Day 2 - Thursday (Wheels Elburgon 2016)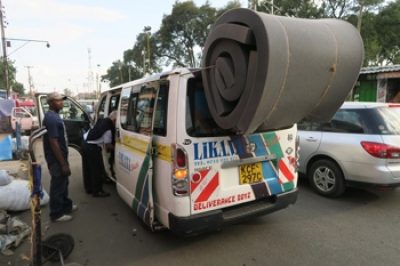 After a delicious breakfast we crammed our equipment and cases back into the mini-van and set off for our destination in mist and rain. We had a brief stop at the Rift Valley View Point, when the mist lifted to reveal intensive arable land under the viewing point and then opened into a large plain, hills and mountains in the distance. We arrived in Nakuru for lunch and afterwards set about shopping locally to change money, buy foam and explore getting internet connection whilst experiencing the hustle and bustle of a busy African City.
Another hour through rural countryside brought us to Elburgon where we were taken to the church for a formal Welcome Ceremony, attended by ladies who have been praying for the trip for many months. We had a tour of the centre and saw a room full of wheelchairs and mobility equipment but it was too late to start sorting and preparing for tomorrow's distribution so we shut the door and headed for the Welcome Supper which had been prepared by the church ladies. We were very late arriving at our hotel so our beds were a welcome sight.