Kosovo Day 7 - Paying Off!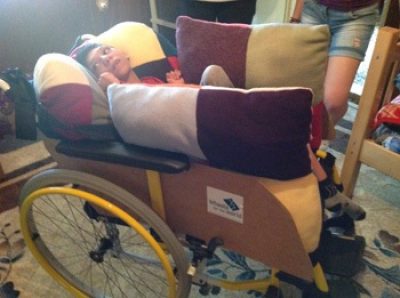 Through the Roof's Wheels for the World team are in Kosovo from the 17th June to the 26th - Linda from the team is sending in reports and blogs as time and internet connection allow. Check back here, Follow this link to read other blog posts from the Kosovo 2015 trip or visit Facebook for more.
Today we have had a day of more home visits and of seeing some of our efforts pay off! We have had to be quite creative about some of our solutions when clients have had complex needs, which has required teamwork to problem solve and fabricate. One example of this has been with a 14 year old boy with severe Cerebral Palsy who was unable to achieve a sitting position no matter how we tried. His Mum just wanted to take him outside, and most of all wanted him to be comfortable. She had already rejected a buggy, and a standard wheelchair, so we needed to try something else. We felt sad yesterday when we left their home, but prayed we could find a solution.
Returning to our base in Gjakova we discovered we had a wide reclining wheelchair and we set to work lengthening the base, built very extended sideguards, and then added some soft and brightly coloured cushions. We delivered it today (it went through the door of the house with only millimetres to spare) and soon we had a comfortable child and a very happy Mum as can be seen in the attached photo.
There have been many other innovations whilst adapting footplates, making moulded backrests, and fabricating chest supports out of all sorts of things, but the funniest has to be our admin desk which is made from a wobbly decorating table and an old walking aid!