Kosovo Day 6 - Back to Gjakova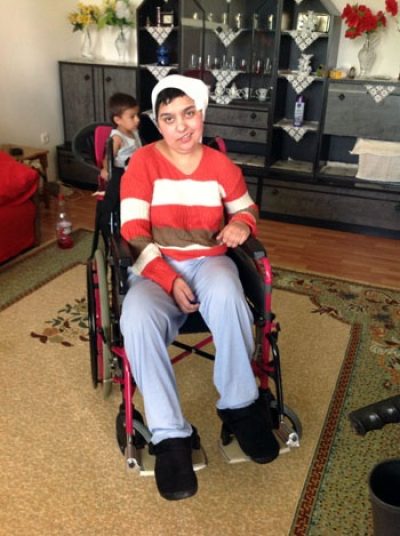 Through the Roof's Wheels for the World team are in Kosovo from the 17th June to the 26th - Linda from the team is sending in reports and blogs as time and internet connection allow. Check back here, Follow this link to read other blog posts from the Kosovo 2015 trip or visit Facebook for more.
Monday saw us back in Gjakova, and the day was all about sorting out the stock we had left, and doing some home visits to those who couldn't make it to the distribution centre. We had 3 teams out and about in the morning, whilst Jill heroically sorted out the remaining wheelchairs. Alison and Ann went to a clinic nearby and then visited the monastery. Helen, Pip and Andy went to see 2 men at their homes, and Linda and Rob went to see a child and a young woman. It's a very special situation to be invited into homes, and we feel privileged to be there to try and help. The day had its challenges as we were faced with some difficult and unexpected problems, however teamwork won through and hopefully we achieved meaningful results.
One of the photos today shows that young woman that we visited. Her circumstances were heartbreaking. She was being helped by her in laws as they had funded her surgery and were assisting with her daily care, but this was a huge drain for them both financially and emotionally. There was no money left to continue her care, and relationships were strained. The woman was a mum of 2 small children, and her illness was preventing them from having 'cuddle time' together. The case was complex but we were able to supply a wheelchair, teach some basic exercises, provide wound care, and give the family confidence. We have also been able to arrange some long term support through the Smile centre which is a huge blessing. The family also accepted prayer and a bible.
Pray for all these families, and for us to find appropriate solutions for them.