Kosovo Day 5 - A Day Off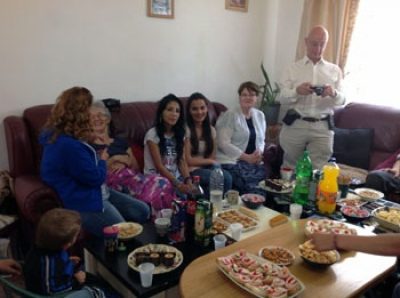 Through the Roof's Wheels for the World team are in Kosovo from the 17th June to the 26th - Linda from the team is sending in reports and blogs as time and internet connection allow. Check back here, Follow this link to read other blog posts from the Kosovo 2015 trip or visit Facebook for more.
This morning we walked to the 'Family Church' to celebrate and praise together by singing (loudly) in both Albanian and English at the same time. 'The Splendour of the King' has never sounded so good, and it was very moving!
Afterwards we went into the hills above Gjakova to visit the graves of those who lost their lives in the war. Many of our Kosovan colleagues lost family members during this time so it was very poignant for this trip. A great lunch followed looking down over the town.
This evening we have entertained our wonderful Kosovan team at Aferdita's home. We shared supper together, and played games making each other laugh. Many of our team are young college students who are not only excellent interpreters, but so willing to rise to help with anything we require. We have been told that there is not much to laugh about in life here, and so our aim for tonight was simply to let them relax with us and have fun. It's been a great day!