Kosovo Day 4 - Rahovec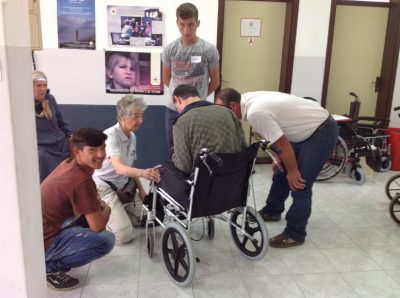 Through the Roof's Wheels for the World team are in Kosovo from the 17th June to the 26th - they'll be sending in reports and blogs as time and internet connection allow. Check back here, Follow this link to read other blog posts from the Kosovo 2015 trip or visit Facebook for more.
The beginning of our 3rd distribution day (in Rahovec) was testing for us all as we had a large and restless queue of customers waiting for our attention. Alison organised everyone fairly, kindly and competently, and soon the whole team was pitching in to problem solve, and help. Our early clients were mostly older children with severe cerebral palsy and complex seating problems, and who sadly had never had any therapy treatment through their short lives. It was heartbreaking to see each family struggling with such difficult circumstances, and we all prayed hard that we could do our best for them with very limited resources for their needs. There were some amazing solutions reached with integrated team work, and we sent home some very happy and excited parents and children with hope of having an easier family life.
On review this evening, we all feel we have had a fantastically rewarding day. We have distributed 74 chairs over 3 days by seeing people face-to-face in centres, some home visits, and also by leaving some in the centres themselves with their own personnel for some who were unable to attend to see us. The team has bonded brilliantly, and we have seen lots of children, young adults and many elderly too. We have also shared our knowledge, love and prayers with all those we have worked with us. Tomorrow is a day of rest and praise celebrating with our new friends at their church, and thanking God for enabling us to carry out his work.