Day 3 Kosovo Trip - Prizren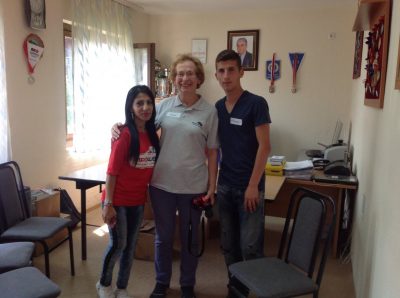 Through the Roof's Wheels for the World team are in Kosovo from the 17th June to the 26th - they'll be sending in reports and blogs as time and internet connection allow. Check back here, Follow this link to read other blog posts from the Kosovo 2015 trip or visit Facebook for more.
Yesterday we travelled to Prizren for our distribution day. We were met by the enthusiastic centre team who wanted to work alongside us and learn as much as they could from us during the day. We had the luxury of a little more space to work in but soon we were full as the assessments and adjustments for wheelchairs began. The day offered a few challenges in the form of complex cases, and unexpected requests, but the team was so much stronger today and we were able to provide effective solutions. We were slightly disappointed that the numbers of clients we had hoped to reach was not as high as we had expected, however because the centre staff had become more confident we were able to leave some chairs with them for people who had not been able to travel to see us. A rewarding day in many ways, just not in the way we had planned for, thanks to God's guidance.
At the end of the day the 'Wheels team' went to explore the atmospheric old town of Prizren and enjoyed relaxing in the sunshine at a cafe, or a few of us climbed up to the old fort for amazing views over the city. There was a lot of fun, and laughter as relationships between us are really deepening to get us through the next few days.