Eldoret 2015 - As it happened!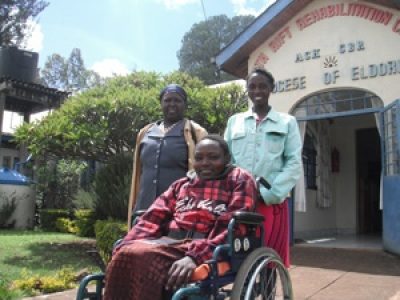 Here are the day by day reports of the first half of our recent distribution in Eldoret, Kenya, written by team-member, Josh. Photos of the trip are on our Facebook page, and you can read stories of changed lives in the next issue of our Vital Link newsletter, due out in August.
Day 1: Running on African time.
After an extremely tiring and sleepless night flight the team was slightly disappointed to find that the taxi driver was running on "African Time" and completely failed to turn up. Thankfully the connecting flight was also running on "African Time" so we made it to Eldoret! We're really excited about seeing the first group of people tomorrow and can't wait to get stuck in!
Now for a good night's sleep!
Day 2: Giving away the Bugatti
Thankfully we slept much better last night. After a great breakfast we launched straight into preparing some chairs ready for the day! One girl had been able to only lie down for 14 years and had some very specialist needs. We found the perfect chair for her and after a very long while of adjustments she was rolling out in a top-notch, state of the art chair with a huge smile on her face that cheered us all up!
Day 3: A Slower Start
Church officially started at 11am but we were not surprised to see the previous service end a little later due to some more African timing! It was not quite what we expected, but after the 20 minutes of very energetic singing and dancing we had more of an idea of what it would be like! We spent 3 hours this afternoon preparing wheelchairs for our trip tomorrow to a small town called Kapsabet.
Day 4: A Trip to Town
We had an early start today and got stuck into loading the trailer full of wheelchairs!
A couple of hours later we were on the bumpy road to Kapsabet ready to supply some wheels!
A woman came to us crawling with knee pads made from old walking boots. She hasn't been able to walk for a number of years and today we gave her back the blessing of mobility with a wonderful wheelchair. She rolled out of the church with a massive smile on her face.
Tomorrow we're doing another distribution at the Rehabilitation centre and we're expecting 35 adults and children.
Day 5: Today has been our most productive day yet!
The team managed to help 43 people today! That's double the amount of people we have seen the previous 2 days. Understandably the therapists are weary and ready for a good night's sleep!
The last person we saw was a teenage girl with hydrocephalus and scoliosis so bad that if it got any worse her lungs were likely to collapse! It took one of the therapists 2 hours to make sure she was comfortably in the right chair.
Helping her was a great reminder of why we came out here. It was amazing to save her life and it left us all really inspired.