Wheels in Kosovo - Days 3 & 4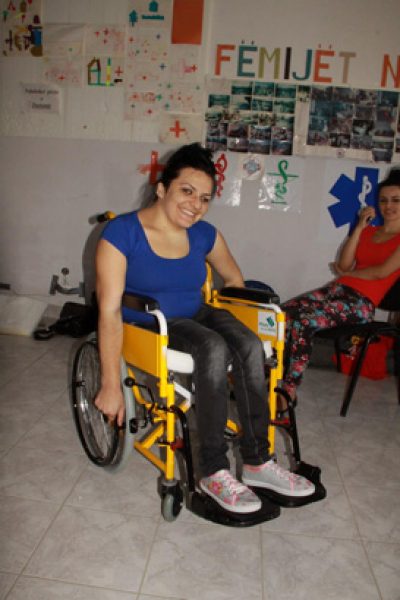 Our Wheels for the World team are working in Kosovo during June - you can catch up on all their updates by following this link.
The team seem to have settled into a morning routine in the house and shower rota seems to be working. After breakfast we went back to Peja to work in the Handikos center. Our team of 8, 6 translators and 4 seed Kosovo staff all travelled in two vehicles the hour journey there. Our translators are young girls (aged 14-16) who speak wonderful English and are volunteering from school. They are enthusiastic and have the most incredible testimonies. In their young lives they have encountered suffering and hardship that we will most likely never know.
On arrival at the center everyone had a much better idea of what is happening and how things worked. We managed to find foam which was a success and the team got to work. Dodging some showers and getting to work the team worked fantastically really supporting one another with two or three heads being better than one.
The team did some home visits as it seems it is difficult for people to get to the centers. This included visiting a convent where single handedly two nuns take care of 17 vulnerable and disabled people. In Kosovo people will not crawl so they are dependent on family to bring them. In total the team saw 18 people though had some very complex cases.
The team returned back to Peja some of the team on the public bus along with the SEED Kosovo team. We had a great dinner with the team before heading back to the house.
Today the team went to Rahovec we went to a small center 20km away. This was to a disability center which before five years ago was doing amazing and important work in the community. The funding has dried up and they have had no support and it is just an empty building. The SEED Kosovo team have been trying their best but they had identified people in their area who needed wheelchairs and support. It was a poorer area, and the man who ran the center was disabled himself.
The team worked well and had some great interaction with the people. For example Jill worked with a man with muscular dystrophy who managed to get hold of four wheelchairs before the war. He gave three away and kept one. In the war his house got burnt down with his wheelchair inside so had nothing for 8 years. He was an artist and had been very involved in the centre when it was open but says now they have nothing. He was given a power chair but he cannot travel anywhere with it and it is not always working properly which takes away his independence.
The stories of the war and the hardship some of the people have been very hard to hear.
The team worked hard before squeezing to the car along with the foam, mattresses and all the other equipment needed. We finished by afternoon and returned back to the house. We then walked to a local Swiss restaurant. As we didn't have to get up early we played a board game before everyone collapsed into bed.