Last Chance for Enabling Church Tickets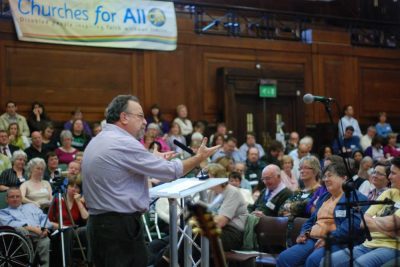 The 'Enabling Church: Everybody In!' conference is being held on 3rd June 2014 in West Bromwich. It's going to be an exciting and informative day, inspiring churches and congregations to become more inclusive. Every church needs to become an 'enabling church' that welcomes, includes and involves people with dementia, disability, deafness, their families and those that care for them. The programme involves a majority of speakers with direct experience of a range of disabilities, either for themselves or with close family members.
3rd June 2014: 10:00am to 4:30pm (Doors open 9:15am)
Bethel Convention Centre, Kelvin Way, West Bromwich, B70 7JW
Follow this link to visit the Enabling Church Website where you can find out more about the day, and book your tickets.
A full report will be coming soon!
(Photo shows Roy McCloughry speaking at an earlier Enabling Church conference)