Wheels in Kimilili, the final day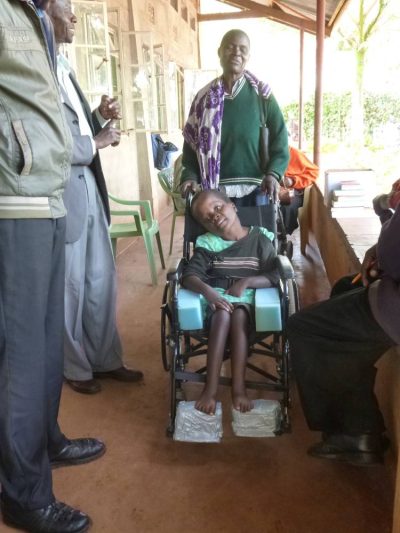 We're very grateful to volunteer, Charlotte, for her inspirational blogs from our wheelchair distribution in Kenya.  Here's the final one...
We stayed in a lovely little guesthouse overnight and returned to the Eldoret centre on Friday morning for our final distribution.
There were nine more clients expected - Seven of those were seated and all went to plan.  Our final two clients were struggling to travel to the centre.
Sadly, one mother struggled to get to us as her husband did not allow her to travel due to their child's disability.  Fortunately, the staff at the centre got involved and a policeman shoed the husband away.  The little child was seated with us and the mother was overwhelmed with emotion.  She had no idea her child could sit up.  What a huge answer to prayer!  Our other mother managed to make it just in time as well!
After we finished, we had lunch and some went for a quick swim in the hotel next door.  On leaving, the staff at the centre gave us ladies a beautiful scarf each and the two chaps fantastic animal printed shirts!  They also blessed us with a beautiful picture of water dripping between pots to put up at the WFTW office.  They were a fantastic team and such an encouragment to us.  It was incredible to see God working in their lives and through them in their work.
Our return flight plans went smoothly.  Reninca managed to check all of us in (bar one) from the UK, which was a huge answer to prayer and such a relief!  We did have a bit of a manic rush at Nairobi to ensure the final member of the team was checked in, but praise the Lord they were - despite the queues.
A real sadness fell over me as I left Kenyan soil. It has been an incredible, life changing 10 days.  We have seen God move and work in unimaginable ways.  We have experienced mind-blowing answers to prayer and never changing grace.  God is alive and at work in those regions of Kenya and what an encouragement that is!
Please continue to pray for the folks of Kimilili and Eldoret; that their wheelchairs would bring real joy to their lives. Through independence and new freedom, they would be able to share with others around them the real Gospel of grace.  Please pray they would feel accepted and secure in Jesus's love for them as His children, not separate from Christ through their disability.
Thank you for your prayers and encouragments for us as a team.  We encourage you to follow in our footsteps and get involved with a future wheels trip - it will change and develop you for God's glory.
Over and out. x
You can find all our Wheels Blog posts by following this link.
---