Day 8 in Kimilili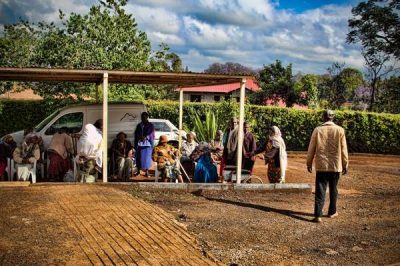 Our Kimilili Blogger, Charlotte, has all the latest news from our Wheels for the World distribution. You can find all our Wheels Blog posts by following this link.
This morning we visited the Dreamlands hospital. What a highlight! Becky Nightingale, a veteran on a Wheels trip, is very involved in the day to day running of the hospital. She showed us around.
It's a modern 2 story building with 4 recent buildings outside and a final older building. The building started 10 years ago as a basic clinic with maternity services. It has now grown in a multi-faceted centre.
We observed an orthopaedic clinic. Children with the congenital disease, club foot, can be treated by a basic local operation where the ligament in the ankle is cut. This is funded so the hospital is able to offer it for free! Lots of children were queued with casts, and we watched the clinical officer remove a cast. The children were brave!
The clinic has an eye service offering basic surgical techniques, antenatal ward, physiotherapy gym, GP office, pharmacy, radiography, ultrasound and dentistry. It also has a facility for some soft tissue surgery.
The new buildings are just being staffed. There will be fully functioning male, female and maternity wards.
The 4th building was spectacular - a beautiful new operating theatre, kitted out with up to date gadgets. Please pray for Becky and the team as they find the medicial expertise and equipment to start orthopaedic procedures on 22nd April.
Many of the team reflected on how much the hospital has grown since they first visited. It really warmed our hearts.
In the afternoon, some of the team went to visit a lady in a nearby village. Something 'went in her back' and she was unable to move when she was young. She laid on her front for 16 years in her hut. A prisoner saw her story and through wheels designed a trolley for her a few years ago.
It had broken so we fixed it and delivered it to her. She had a real heart for Jesus and recited passages of the bible to us in Swahili. She was a real testament to God working for his glory in all things.
Eileen, rob and the IcFEM staff member Leonard, were all given a chicken as a blessing!
Prayer points
- thankful to the witness of the lady in the village
- thankful for the growth of Dreamlands hospital
- pray for continued growth of the hospital, that it would be used to minister to the sick but also be used as an example of Christ's grace
Tweet
//