Wheels in Kimilili - Days 6 & 7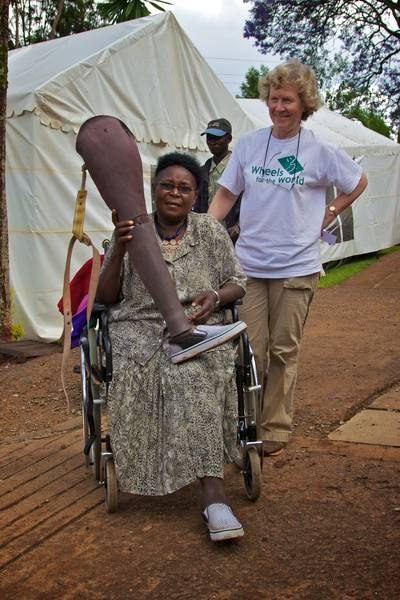 Two days in one from our Kimilili Blogger, Charlotte, as she keeps us all up to date with the latest news from our Wheels for the World distribution. You can find all our Wheels Blog posts by following this link.
Day 6 - Monday
Praise God for another great day of distributing!
Today we distributed wheelchairs and walking aids in the IcFEM HQ. It was an indoor distribution. Praise God - it rained a little during the afternoon but we were sheltered - a real contrast to our previous days!
We only had a small selection of wheelchairs remaining. Our main worry was that we wouldn't have the right wheelchairs for the right people. It was a day to rely on Christ's grace.
The distribution day was much more relaxed. The therapists were freed up to take their time seating the clients. It was really lovely just to spend a little more time with each person; to get to know them and talk through wheelchair care and some physio tips! The pastoral team (from what I could see) also had more time to pray and share the gospel. I've found it very interesting how families just wait around after they are prayed for. The english would just whiz off at the soonest opportunity!
We have two Ugandan gentlemen staying with us until Wednesday. They are known well by Eileen and her husband. John Francis is training to be an engineer and David a doctor. It was a real help to the techies to have them help out!
The power returned late this afternoon. Praise God for the answer to prayer.
After evening devotional and praise, we played a group game organised by Rob. It was a great laugh and on reflection great team bonding - praise God!
After our distribution we had only 3 working wheelchairs remaining....
Prayer points
- Praise for another day of relying on Jesus and seeing real answers to prayers
- A member of the team is suffering with a bad cold. It isn't stopping her from being fantastic mind you!
- Please pray for wisdom in how to spend our time best for Christ over the last two days in Kimilili.
Day 7
Our plans had changed by 9am this morning! Originally some of the team were going to visit Violet (Violet received a unique, specially-designed trolley to help her become independently mobile in 2002, after the team visited to assess her in 2001) to distribute her personalised trolley and others were going to sort some admin out at IcFEM. A couple of members popped up to IcFEM early to pack up the toolbox ready to visit Violet. However, people were seated waiting for chairs! The local radio had broadcast wheelchairs were available at IcFEM. The team rallied together for an additional morning of distribution with a background worry we only had 3 chairs....
We gave the remaining wheelchairs out but still had three more people waiting. God intervened in our weakness. A gentleman from the Eldoret distribution who required two wheelchairs cancelled. We were able to take those wheelchairs from the Eldoret lorry which provide wheelchairs for all but one. We had a final wheelchair that hadn't been able to be fixed. David, a gentleman from IcFEM, went up into town to purchase some more ball bearings for the wheels. Praise God - with a bit of grease and lots of prayer - the wheelchair was fixed! The young man had come in his Grandmother's wheelchair, which had left her housebound at home. Unfortunately, the young man left before we had finished ready to return in another hour or two so we were unable to pray with him. We trust he received his wheelchair and another staff member was able to pray with him.
Sadly, we did have to turn a young child away. It saddened me to see them leave without a chair. It was such a reminder at how much we take for granted in the UK. It also touched my heart how gracious they were. Please pray for the child that went without, that he would be provided for at a future time and that through this Christ's glory would be seen and he would become a child of Christ.
During the afternoon, we visited the town and IcFEM shop and had some down time.
Tomorrow our plans are still unconfirmed. Currently we plan to visit Dreamlands Hospital in Kimilili to view the morning Orthopaedic clinic and then some of the team to potentially visit a school and the remaining to deliver the trolley to Violet.
Prayer points
- We praise God for the mini distribution this morning, that we didn't have to turn many people away and The Lord provided for all but one of the people we saw
- Praise God for continued blessings over the unity of the team
- Please pray for the little child, that they would give their heart to Christ and He would provide them with a wheelchair in his good time.
- Pray for the potential plans for tomorrow, that the team would be a blessing to Violet as we provide her with independence in her trolley and to pray and share with her
Tweet
!function(d,s,id){var js,fjs=d.getElementsByTagName(s)[0];if(!d.getElementById(id)){js=d.createElement(s);js.id=id;js.src="//platform.twitter.com/widgets.js";fjs.parentNode.insertBefore(js,fjs);}}(document,"script","twitter-wjs");