Wheels in Kimilili - Day 4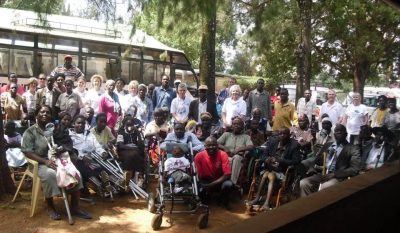 You can find all our Wheels Blog posts by following this link.
Today we distributed for a second day in Maketa, Kimaeti.  We were situated in a beautiful school field, surrounded by butterflies and little baby chicks.  When we arrived, there was already a sea of people waiting; lots of expectant faces and bright eyes.  It was quite overwhelming actually!
We had many people come, some from over 20km away.  We had lots of people that hadn't been assessed and our main worry was that we wouldn't have enough chairs for everyone.   God prevailed - our last two chairs fitted the remaining two people!  We were left with just one child's chair!  It was such a parallel with the five loaves and two fishes - Jesus saw the crowd and felt pity on them, and He provided.   Praise God he provided a chair for everyone - it was such an encouraging answer to prayer!
The rain stayed away until our last patient left. Then it poured....!
We praise God again for a fantastic distribution day. The team is efficient and working well together and the IcFEM staff are brilliant.  Tomorrow we are splitting to different churches and to locals for lunch.
Prayer points
- thankful for blessings today and such incredible answers to big prayers - our God is a big God!
- provision for the churches meeting tomorrow; that the speakers would be anointed so that Christ's name would be praised
- a restful day for the team after a busy few days
Tweet
!function(d,s,id){var js,fjs=d.getElementsByTagName(s)[0];if(!d.getElementById(id)){js=d.createElement(s);js.id=id;js.src="//platform.twitter.com/widgets.js";fjs.parentNode.insertBefore(js,fjs);}}(document,"script","twitter-wjs");