Wheels in Kimilili - the first distribution day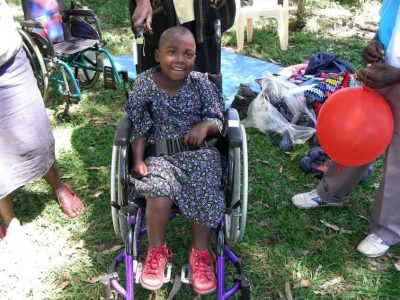 You can find all our Wheels Blog posts by following this link.
Our first distribution day went really well, praise God.  We provided wheelchairs and mobility aids to approximately 50 people in and around Kimaeti.
I loved seeing how happy the people were.  They were so joyful despite their own or their children's disability.  They smile and they chatter through their interpreter. They are so very grateful.  It's amazing to see their faces light up when they first sit in their chair or use new crutches.  It was a real blessing to serve these people.
It was so incredible to see how people cope with disability in Africa.  People shuffle along on their knees using flipflops as hand protectors, they shuffle, they're carried.  I saw a little girl tied into an upside down stool on the back of a push bike.
My heart was touched by a little 7 year old girl who was infected by malaria at the age of 1.  She contracted the disease so badly that it caused her to have seizures.  She is now deaf, blind and physically disabled as a result.  Sadly she has been left with a learning disability too.  Yet the little girl was so happy, giggling away and playing with a little teddy.  It was such a privilege to help this family and share the Gospel with them.
We are so thankful to Christ for providing the right wheelchair for each person.  We had enough wheelchairs for everyone registered.  The Lord also kept the rains away for us, which was a great providence.
Prayer points
- Grateful to Christ for his provision today
- Christ's strength to shine through our weakness as we work tomorrow, knowing we cannot do it in our own strength
- Practicality – we have the right chairs for the right people
- Team health, The lord would continue to sustain us
"But he said to me: My grace is sufficient for you, for my power is made perfect in weakness"
2 Corinthians 12:9
Tweet
!function(d,s,id){var js,fjs=d.getElementsByTagName(s)[0];if(!d.getElementById(id)){js=d.createElement(s);js.id=id;js.src="//platform.twitter.com/widgets.js";fjs.parentNode.insertBefore(js,fjs);}}(document,"script","twitter-wjs");