Wheels to Kimilili - Day 1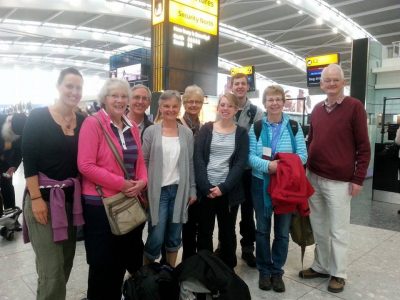 Wheels for the World is running a distribution in Kimilili, Kenya for ten days. Our team on the ground will be blogging as often as technology and time allows! Today, Charlotte Smith tells us all about the journey, initial plans, and some prayer pointers for the team. You can find all our Wheels Blog posts by following this link.
Wednesday 2nd April
Day 1
The team met at Heathrow airport shortly after 7.30am this morning. Check in flowed without any major mishaps. Reninca came to wave us off and to pray for us. Our flight arrangements went smoothly. We arrived in Nairobi at approx. 9pm local time. We collected our baggage and hopped onto a minibus to the African Inland Mission guesthouse for a few hours kip.
'Team Orr' consists of 9 members this year - Eileen Orr (Team leader), Rob Dalton (Deputy team leader), Nigel and Ruth Davey, Andrew Smith, Christine Grew, Maggie Wyatt, Lucy Woods and myself (Charlotte). I am the only newbie on this wheels trip and many have been to Kimilili previously.
Our schedule is as follows, subject to change:
Wednesday 2nd April - Travel day!

Thursday 3rd - Travel to Kimilili. This involves an internal flight from Nairobi to Kisumu and a minibus ride. The second half of the day we hope to get started sorting some wheelchairs.

Friday 4th and Saturday 5th - Distribution days in Kimatei

Sunday 6th - Church and lunch with locals.

Monday 7th and Tuesday 8th - Distribution days in Kimilili HQ

Wednesday 9th - Visiting local hospitals and schools

Thursday 10th - Leave Kimilili and travel to Eldoret for a distribution day

Friday 11th - Finish off any last bits and pieces/mop up before we begin our homeward journey from Eldoret - Nairobi and then from Nairobi to London Heathrow

Saturday 12th - Arrive in London at 6.50am
There have been a couple of issues regarding checking into flights here in the UK and cancellations of flights home. Praise God He reigns through these organisational issues and has provided for us in incredible ways already.
I think I can safely say from everyone that we all feel excited and privileged to be serving Christ in this way. We value your prayers and are deeply thankful for the support of you all back home.
A couple of prayer points:
Thank you for safe travel

United team, that our hearts would be united in Christ and we would be seeking to serve him prayerfully and humbly

Gospel sharing, that The Lord would provide opportunity, confidence and grace as we use this time to share the good news of the gospel to the local people
" All authority in Heaven and Earth has been given to me, therefore go into all the world and make disciples of all nations." Matthew 28: 18-19
Tweet
//