Cinematic Experience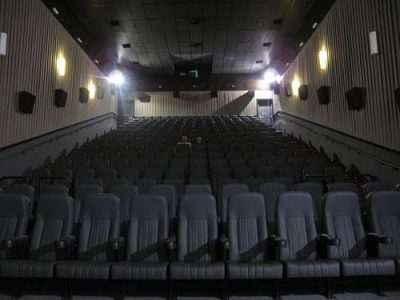 While Will and I were still in the dating phase of our relationship, we went to the cinema a few times. A couple of times we went to see films in the company of my nieces and nephews. But twice we went on our own. If you're wondering why 2 blind people would want to go to the cinema and what we could possibly get out of it, let me explain. At specific times and dates, cinemas will hold an 'audio described' showing of the films. This means that people with visual impairments are given a headset to wear. When they put this on, every action in the movie which is not obvious by the dialogue is described. For example 'she crosses the dark room and flicks on the light' or 'he shakes his head and shrugs his shoulders' - all the little things that sighted people will see without realizing they've seen it, but which is essential in the plot of the movie are described to us. This is also available on TV and some DVDs.
The first time we went on our own was to see 'Les Mis'. The staff took us to the screen, sat us down and promised to come and get us at the end. They did, and everything ran to plan. We felt empowered and keen to go again. So, we booked into see 'A Song For Marion'. We had sent my parents to see it for their wedding anniversary and they recommended it. It all went smoothly. We were shown into the seats, and left with our headsets to enjoy the film. I have to say it was one of the best movies I have ever seen! We both really enjoyed it! The end came and people began to file out of the screen. We waited for the staff member to come and get us. Pretty soon, everyone had left and we were the only ones in the room. We thought, "they are bound to come and get us in a minute"...
After the final credits and music of the movie had finished, there was an eerie silence. Followed by a few hisses from the speakers! Then nothing. 10 minutes went by. From childhood, I have always hated total silence. I think it is because I can't see, I rely so much on my ears to tell me what's around. I always used to go to sleep with a tape on, and even now I need something humming in the background to feel comfortable. This was the most complete silence that I could ever imagine. Will and I sat in our seats, feeling more and more on edge. Then, there was a whistling sound outside the door as if someone was standing there. We thought "aha! He'll come in in a minute". Another 2 or 3 passed and nothing.
My Mum was due to pick us up so I took out my phone (remembering why I never leave the house without it) and called her. I told her "no one has come to get us. We are on our own in the screen, can you ask them to come and find us?" We then had a few more minutes of suffocating silence before the screen door opened. Mum and a member of staff came in. We were so pleased to hear another human being.
When we were out in the reception area, we said to the staff member "we were taken in by one of your staff, so why did no one come to get us?" she replied that she wasn't sure. We explained that we had heard someone whistling outside the door and the staff member said "oh, that was the cleaner. He's not allowed in the screen while there are people in there, he would have eventually had to send for someone to investigate why you weren't coming out". Well, that's a comforting thought! We left feeling shaken and sent a letter to customer services. They took a look at the cctv and after apologizing, gave us 4 free tickets to use on a show. In other words, so we could take 2 carers with us. After a bit of negotiating, we got them to agree that we could use the tickets on 2 different shows if we wanted to come alone. However, after that experience, when we next went to the cinema it was in the company of several other people. I don't think we'll chance it on our own for a while, though it's still a great thing to do and we enjoy it!
(The photo of two people alone in a cinema is
licensed under a Creative Commons Attribution-ShareAlike 2.0 Generic License and taken by Flickr user Silveiraneto).
Tweet
!function(d,s,id){var js,fjs=d.getElementsByTagName(s)[0];if(!d.getElementById(id)){js=d.createElement(s);js.id=id;js.src="//platform.twitter.com/widgets.js";fjs.parentNode.insertBefore(js,fjs);}}(document,"script","twitter-wjs");