Ghana Blog - Day 7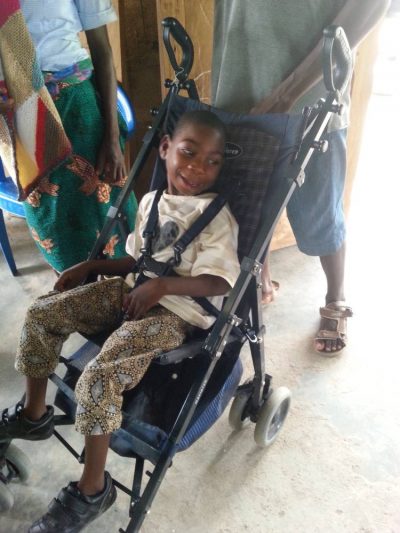 Phil Green is on the ground in Ghana for the Wheels for the World distribution - he's bringing us a daily blog from the trip. Catch up on all the entries by following this link to our Wheels blog page.
An early start today and breakfast, you may have guessed, was eggs and beans etc. I am not complaining, although I am looking forward to a little selection at breakfast next week.
We headed back off to Dzolokpuita (Still have no idea how to pronounce it though). We had expected a few more people there initially but people were coming in through the morning. In total we saw 65 people today with 25 wheelchairs given out, along with 4 buggies so it ended up being quite busy.
I was again struck by all the children we saw, and at one point I was almost in tears with one little boy (Laurence). He had come yesterday, but we didn't have a footplate for the buggy we wanted to fit him in. We had got one last night however and asked if they could come back today. I was playing with him as Kathy was working with him, but she said something like 'there is a little boy in there just trapped inside but wanting to get out.'
He had epilepsy I just found out, and it was causing brain damage. The more he would fit, the more brain damage he would get. Just thinking about it now makes me a little sad, and again I do feel helpless, so all I can do is pray for him I suppose.
Similar feelings for other children I saw today including a little boy called Shadrack, great name of course but his brothers were not called Meshach and Abednego. He was mostly smiles and again the children always bring real energy even if sometimes it meant they were crying. Seeing white faces for the first time must also be quite scary too for some of the children.
The day was busy though with a combination of fixing chairs, taking photos and capturing video and the rest of the team were equally busy… it was really a bit of a blur (for me at least) now I think about it.
At the end of the day we had one lady turn up after we were just about to get back on the mini bus (or, I should say, our luxury air conditioned coach). She was being pushed in an old wheelchair, which has a bit of a story behind it as it had been brought in as an old chair in the day, and its owner was then given a new wheelchair. The chair wasn't in great condition but was just about functional. Ellen (our host) gave the chair away to someone and it disappeared off. However, that someone had given the chair to someone else, which resulted in this lady turning up in it being pushed by her brother (I think). She ended up with a new wheelchair. We left the chair behind hoping that someone else could still use it.
As we were just about to leave we were invited in for a drink with the Ho West region Regional Director. They were our hosts in Dzolokpuita, and he had been over several times to see what Wheels for the World was all about. When he realised we weren't just there to give out wheelchairs but also to show God's love in action by sharing the Gospel and giving out Bibles then he was really impressed. They ended up giving a donation (quite sizeable in Ghanaian terms) to the work we were doing in combination with Ellen's Light Outreach work. Ellen, if I haven't explained well, is the real reason we are here with the work that she does for street children and people with disabilities. A fantastic woman.
Anyway, the regional director was really complimentary and expressed a wish to work closer with Wheels and Ellen in the future, so that was great news! This really boosted many in the team.
Personally I find it hard to accept praise sometimes, especially on a trip like this when I just want to crack on and help as best I can. At the same time, my photo/video work will only really kick in when I am back at home and start editing etc. But although I find it hard sometimes I do now realise first hand from Ghanaians themselves that we are changing people's lives, so actually when I sit and think about it now it does give me a warm feeling.
It seems that there is a feeling that some Ghanians think that NGOs etc come into the country to make money and then just disappear, so they can be skeptical of some good works, and hopefully now that the director and his team have seen what we do, (i.e. that it's not for money) and was really impressed at the love the team shows to people he may well be able to help Wheels in the future. For example he may be able to help with the speedier release of the container which sat in the port for well over a week this time. So please pray that he can influence this with the other powers that be here.
After the meeting we headed back to the hotel. One of our team had come back earlier due to an upset tummy, so we are praying about that. Despite that, spirits are high, and we keep praying as mentioned and I again ask that you do too please.
WiFi/internet connectivity was online for a while, so the team all sat around with iPhones, tablets and laptops out. It's strange how many of us are dependant on our smart devices and WiFi/Internet to be able to keep up with family/friends and world news. I think Kathy and Graham were texting each other even though they were sat next to each other. They claim they weren't of course!
I also had an email from Glenda, who I have been on 3 trips with and if you don't know Glenda then well she's another amazing woman and you should perhaps read some of my blogs from previous trips.
Her email said 'you're doing a fantastic job' followed by 'the team of course.. not you !' hmmmm...
But I agree the team are doing a fantastic job and as we were told by the regional director he said we are changing lives. I don't want to be arrogant about this, but I am believing thats the case.
In Glenda's email she also said it made a change not to be the butt of some of my remarks… I know Reninca is getting most of those now…. now Glenda, I was going to bring up some embarrassing memory from the past but just this once I won't.. I'll just say I miss you and its different not having you on a trip with me.
I am again sitting under the moon and stars at the end of day 7 about to head to bed.
It's been a mentally challenging day for me really… not that I didn't expect to be mentally challenged on this trip since I knew I'd end up feeling emotional about some of the things we see, especially the children.
Again all I can do is thank God for what he provides and ask him to bless those we have seen.
I am thinking about little Laurence in particular tonight and praying for him.
I am trusting God's got it all in hand and at the same time I know I and some of the team are praying for miracles so perhaps you can pray the same too.
So with my usual sign off at the end of day 7 with the team tucked in again and probably snoring away I'll say night night.
Tweet
!function(d,s,id){var js,fjs=d.getElementsByTagName(s)[0];if(!d.getElementById(id)){js=d.createElement(s);js.id=id;js.src="//platform.twitter.com/widgets.js";fjs.parentNode.insertBefore(js,fjs);}}(document,"script","twitter-wjs");