Ghana 2013 - Day 8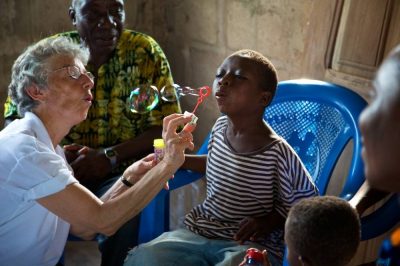 Our Wheels for the World team are in Ghana for an eleven-day series of Wheelchair distributions. Team member, Phil Green, is writing a regular blog to let us know how it all goes. Here's his account of day eight of the trip. Catch up on all Phil's entries by following this link to our Wheels blog page.
For breakfast I had French toast, Bacon, Mushrooms with Maple Syrup… well that was in my dreams….. in Ghana we had eggs and beans, but with some fuel on board we headed off into Ho for an early start.
Busy day at the office just doesn't describe the day!
I thought yesterday was bad, but today was really crazy and even more of a blur. It's the busiest day I have ever experienced on any of the Wheels trips I have been on.
Will even suggested that too.
The distribution was at the church that Will and I went to on Sunday and thankfully we were able to use the inside of the church as otherwise we would have baked in the sun.
The scene was just chaotic with people appearing from everywhere. There were so many crawlers (It may sound like a horrible term but thats how they get around, i.e. crawling, so it's really the best way of describing them, I don't mean any offence of course), that at one point there were 4 in a row and I was doing my best to try and capture the scene on video as much as possible so that I can hopefully help show just what its like when we get home.
However, Graham was the star of the day with his organisational skills managing the front desk. We had quite a lot of people registered but many more who hadn't so they all had to be checked in and given a ticket and asked to wait. The challenge is that not everyone was happy to wait.
As the day went on, we were getting through wheelchairs really fast and everyone was full on. Today was so busy I was struggling to remember people we were seeing, again it was all a bit of a blur. I was taking photos left, right and centre, capturing scenes on video and also modifying some chairs. More and more people kept arriving and it became clear we were running out of chairs and time. We had to start sending people home and that's when some started to get a little frustrated and tempers sometimes got frayed. Graham bore lot of the brunt of it, and working with Ellen and Eric as well as Will stepping in now and again, had to try and explain the situation.
It is, of course, really hard for the team as we never want to send anyone home without being able to help, but we simply couldn't do any more.
It's understandable of course that people were frustrated as they are just desperate for some help or a wheelchair. Based on today's experience it really highlights the need here.
We also know we will have the same, if not worse, situation tomorrow. Some people who have registered are coming from a long distance away, in fact they set off last night to arrive tomorrow morning! We have a handful of chairs left with some other mobility aids. We are praying for some guidance on what to do and how to handle the situations where we have to turn people away. Please pray for them.
We gave out 48 wheelchairs today and around 74 people in total, but over 100 had turned up today. It's really hard to write today's blog… just because so much went on and no-one really wants to write that we couldn't help some people and had to turn them away. I didn't want to write that some people who came expecting a chair got angry... but that is the reality.
Saying this, the team is still in great spirits though and there were some memorable moments, my first time cleaning up after someone with incontinence with the help of Jill for example. Now I of course am not making light of someone's predicament, but it's a new experience for me and I am just sharing. (Perhaps I shouldn't, I can imagine some of you thinking).
For Graham he also experienced something new, as he had at least one woman today laid at his feet today. I did ask Kathy (his wife) if she had seen the situation and asked if she had fallen at his feet in similar vain. The answer was a very clear no! To try and explain, as Graham was manning the admin desk giving out all the numbers etc everyone would gather round the table. They believed, I think, that being closer to the table would mean they would been seen first. As such one or two people would end up on the floor in front of the table. So at least Graham is off the hook...
Anyway as it got closer to 6pm we had less and less chairs available and the light was fading. The church also had a power cut and as such we ended up finishing the last chair in near darkness, fitting/modifying chairs by torch light.
We then headed back off to the hotel for a bit of a relax before team time and dinner. The team did a really fantastic job today, there were some hi-fives all round with the sheer effort involved and the numbers that the OT's got through. It was a remarkable team effort, a therapist wouldn't deal with this many people in a week in the NHS at home, I suspect.
Graham again deserves a special mention as he would occasionally bring round the sweet box which acted like a little pick-me-up during the day. However, I must say he seemed to keep forgetting me so perhaps it's him getting his own back on me!
Pam again was doing a remarkable job too as she spoke to every single person the team saw today and to me she's the most important really as knowing God and finding salvation far outweighs everything else.
At team time we reflected on how busy it had been and prayed about the chair situation. We really need God to help us with this situation, as we strongly there just won't be enough chairs to go around, based on the number that have registered.
We prayed that those who don't get chairs can get blessed in other ways.
I am again sat outside finishing off the blog with a nice cool breeze, reflecting on the day. The team just keep thanking God for his provision as well as everything else for that matter, we do have so much to be thankful for, and although I can't say I am really looking forward to tomorrow due to the situation with the chairs etc, I know I need to just keep trusting in God. I don't want to limit God and so I'll just keep praying for miracles.
My final thought before I close for the night is again the children I saw today, many were just so happy and, like the other day, just gave out such wonderful energy. No wonder God loves little children so much.
So I'll ask again for prayer for the team, tummy issues seem to be improving, but all the team still need stamina for the day ahead, and again pray for those tomorrow expecting a chair who may not get one. At the end of an incredibly busy day I'll again let you know that your loved ones are tucked up in bed and I'll say night night.
Tweet
!function(d,s,id){var js,fjs=d.getElementsByTagName(s)[0];if(!d.getElementById(id)){js=d.createElement(s);js.id=id;js.src="//platform.twitter.com/widgets.js";fjs.parentNode.insertBefore(js,fjs);}}(document,"script","twitter-wjs");