Ghana blog - day 5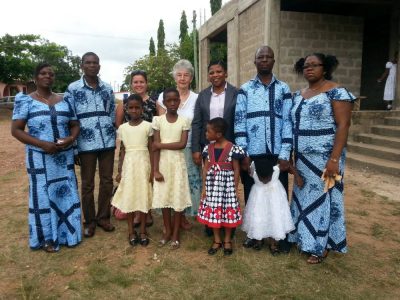 Phil Green is on the ground in Ghana for the Wheels for the World distribution - he's bringing us a daily blog from the trip. Catch up on all the entries by following this link to our Wheels blog page.
I had the opportunity to have a lie in but my body clock had me awake at about 5:30/6am but I wasn't getting out of bed just then, so I had a little quiet time.  Will just seems to wake up and go but I had to give myself a bit more encouragement before I finally got out of bed for breakfast.
I'd been thinking about the previous days and in particular little "Blessed".  He brought a tear to my eye again and I was yet again challenging myself as to what sort of difference we could make in Ghana.  I have been reading The Shack whilst I am here and although it's a fictional book it just reminded me about God's love, whatever happens, and so I believe God's looking out for him.
A few prayers later and with breakfast finished (yep eggs, beans etc again) the team started separating for the different churches...  Kathy, Graham and Katherine headed off to church for an 8am start and Pam and Helen headed off to the leper colony where I believe Pam was preaching.  Reninca and Jill headed off for another church with Will and me heading off for another close behind...
The service wasn't in English and although we had some partial translation it was hard to follow.  One of the songs I recognised, well the tune anyway, as they were singing in Ewe the local language here.  There are also a lot of offerings.  Not sure exactly how many they took but it was a lot!  Will was asked to explain why we were there and whilst he only spoke for about 5-10 mins it was a great sermon even though it wasn't supposed to be.  He spoke about the banquet in the Bible where the rich were invited but didn't go so instead the weak/poor etc were invited in and that was of course the link to Wheels.  It really moved me!
The service finished after 12 and you may therefore realise that the services are quite long here.  I don't mean to sound critical of course, it's a different culture and a different experience to the UK.  On our return to the hotel we caught up with the rest of the team and shared experiences in and around the pool.  Graham, Kathy and Katherine ended up at two church services and Graham spoke at both.
Some of the team are suffering from upset tummies so please pray for health/protection for the team.  It was therefore good that the afternoon was spent getting some rest.  We got a whiff of WiFi in the air so for a brief period we were able to email home until the hotel's data credit was used up again which seems to happen very often.  Perhaps its God's way of saying "be patient" although it's hard as many of us want to update loved ones at home.
Will went to sort some chairs for tomorrows distribution in a place called Dzolokpuita.  I have to mention Will again here as he's just a humble selfless guy... he's fantastic!   Also worth an extra special mention is Ellen our host who again gives up loads of her own time/money etc for something she really believes in and cares about.  If we had more people like Ellen then the world would be a much better place so thank God for Ellen!
I am enjoying a nice breeze sat overlooking the town of Ho with a full moon and some stars to gaze at whilst I write this.  I am reminded again of God's awesomeness just looking up at the sky and I am praying for tomorrow that we can again help improve some lives - I'd love to see a miracle or two thrown in too.
I'll keep asking for prayers, as mentioned for the team, but also for those who come tomorrow hoping for a chair or mobility aid that we would be able to help them and have the right chair just for them.  At the end of day 5, again I will say night night.