Ghana 2013 - 1st Blog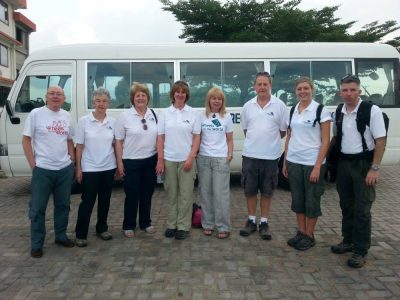 Our Wheels for the World team have arrived in Ghana for an eleven-day series of Wheelchair distributions. Team member, Phil Green, is writing a regular blog to let us know how it all goes. Here's his account of the first two days - the picture shows this trip's team, eager to get to work. Catch up on all Phil's entries by following this link to our Wheels blog page.
Day 1
4am start heading to the Airport where the rest of the team were all ready and waiting… a trouble-free journey with a brief stop in Istanbul to change planes before landing in Ghana. It felt just like home with long queues to get through immigration.
Once out of the Airport we met up with Ellen and Catherine before boarding an air conditioned coach, and I thought this was supposed to be a Wheels trip, as I was more used to less luxurious transport! But we have been really blessed as we will have use of it for the time we are here.
It was another 4 hours drive to Ho and the team were flagging so when we arrived at the hotel it was straight to bed with instructions for a bit of a lie in as the container hadn't arrived yet.
Day 2
The team had breakfast and then we discussed the plan as we hadn't got news on the container at that point.
The Occupational Therapists and Physios were sorting through the paper work ready for the distributions, during which news came that the container wouldn't arrive till after dark. Apparently it had been taken the wrong way… via Uganda perhaps!
We needed to unload the container and sort the chairs today, so we were preparing for a long night with torches, I am always up for a challenge but this would be something new for me at least on a Wheels trip. So I know the team were sending up prayers about this.
We had the luxury therefore of a few hours down time, before we were due to visit the Regional Minister for the area (a Member of the Ghana government). It's down to him that we have our luxury air-conditioned coach, so please thank God for him.
On the team this year we have some seasoned 'Wheel-ers', including Kathy & Graham, Pam, Helen, Jill and Kathy (yes, we have two so it could get confusing). Kathy is a physio doing her first trip with Wheels, so friends and family please know we will look after her.
We also have Will who's our leader this year, although we have Reninca, fresh back from Haiti who started her new job as Through the Roof's International Mission Manager this week. She tells us that she's in observation mode at the moment… personally I think it's an excuse so she doesn't have to do anything, but that's never going to wash with the team, so sorry Reninca!
We all get a Wheels tee or polo shirt for the trip but I think something went a little wrong with the size requests, as they were either too large or way too small for me  so I squeezed into a t-shirt that would have fit me at 12 years old!
I felt kinda bad as the OTs and Physio were doing all the work at this point, sorting out the paper work as I just wanted to get stuck into something physical, but I was sure I'd have the opportunity later in the back of the container.
The other thing you need on a Wheels trip is the ability to be flexible, since just before we set off to meet the Regional Minister news of the container arriving came in and it had arrived at the former leper colony where the Chairs would be stored. It also turned out that the minister had gone to Accra instead so this meant we would hopefully have a chance to unload the container before sundown if we were quick. So thank you God for prayers answered again, as we really would have struggled if it had been dark.
We managed to get the container unloaded and chairs sorted out for the different distributions before the sun went down at around 6pm. So the team's already fully functioning like a well oiled machine. The hotel is good, and the food has been good so far, which is a real blessing and really helps when things get really full on.
We are having a few issues with the WiFi here at the hotel and some of the team are having issues with phones which haven't been set up to roam in Ghana. So communications home may not be as good as we had hoped. For those friends and families who get texts from numbers they don't recognise telling you that they miss and love you …. well, now you know why!
Tomorrow we head for Kandu for the first distribution. We are planning on having 5 distributions at different locations but please pray about this as things are a little fluid at the moment due to a few local issues.
Please pray generally for the logistics of the trip to all just work, we know many are praying for us and the team know and really appreciate this. Please know we are praying too for family and friends and loved ones. God blesses us in so many ways and for me this year has been learning to trust him more and more. He does provide and he does guide. One of my favourite verses is Proverbs 3v5, 'Trust in the Lord with all your heart and lean not on your own understanding; in all your ways submit to him, and he will make your paths straight.'
So as I write this and the rest of the team are getting tucked up in bed I'd just ask you to pray for the team, that we stay fit and well. Pray for Jill who still has a cough that it will go and not hinder her. Pray for the distributions that God will give us the right chairs for the right people. Pray that through the work we do here that people will see that God is behind it all and I want to pray for people to be saved and lives changed.
Although writing the blog captures some of the things we get get up to as a team it actually makes me focus on God, it's a little quiet time for me. It makes me think about how much God does for us, for those who we give chairs our to, how much he provides and how faithful he is. I love being able to share this with you and tell you what I hope you already know that God is such a great God. On that note I'll say goodnight at the end of our first full day in Ghana.