Through Fresh Eyes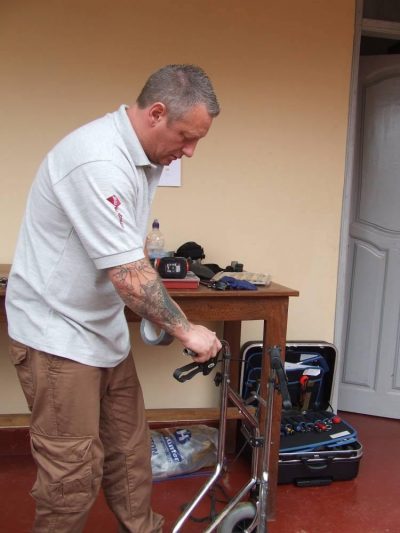 From my first steps on African soil my senses were bombarded with new sights and smells but you quickly notice there is a slower pace of people, writes new Wheels team member Graham Watts.
It's my first time in Africa and my first experience as part of a charity organisation so whilst I was full of excitement, part of me was wondering how I would deal with what was required of me over the next 10 days.
From the start I was made very welcome by the rest of my team and each one has taken the time to offer help and advice, drawing on many years of involvement on similar trips.
The first day of distribution quickly gave me an insight to my role as a technician and after setting up an area for repair/adjustment I started by making good a small number of wheelchairs that weren't quite ready or fit for use.  This also gave me the chance to familiarise myself with the different parts of a wheelchair.
Before long I was put to the test by the therapists, who had begun to process the disabled people that had turned up.  They had completed the hardest task of understanding the disability and then deciding on the best mobility equipment needed.  My challenge as the technician was to make the necessary adjustments to give each person the best possible aid.
Many of the adjustments were simple 'quick fixes' involving either raising/lowering foot plates or adding a lap belt.  On occasion the person's disability required a little more thought due to the complexity of their disability and a number of foam shapes (especially cut) were added to give support to either a head or a limb.
From the first day of distribution I was humbled by the open welcome we all received from both the disabled people and also the family members who had brought them along.
I will leave Africa with the everlasting impression of its people and the warm welcome they gave to us all.  I will also go home with the knowledge that the small part I played has gone some way to help and improve the quality of life of the people we help.
Tweet
!function(d,s,id){var js,fjs=d.getElementsByTagName(s)[0];if(!d.getElementById(id)){js=d.createElement(s);js.id=id;js.src="//platform.twitter.com/widgets.js";fjs.parentNode.insertBefore(js,fjs);}}(document,"script","twitter-wjs");