Uganda thoughts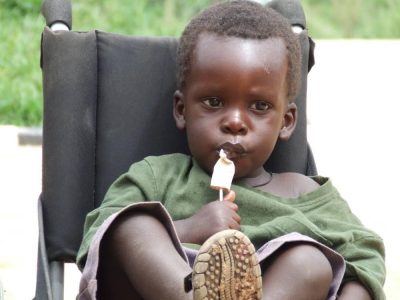 Volunteer therapist, Gunn, writes:
As always, I am touched by some of children I've seen and their tragic situations which, in many cases, could have been improved/avoided had they lived in the West.  I am touched, too, by the gratitude of parents/carers when we are able to provide something and feel a great sense of thankfulness to God that I have been able to help and work through a difficult challenge.
I think, especially, of the little girl (aged 2) with hydrocephalus I saw yesterday and the challenge of finding a way to support her head and make life a little easier for her mother.  Also of the three people today who arrived crawling and the dignity for them when they sat up in their wheelchairs and could get themselves around independently.  Finally, of the elderly disabled people who sometimes have to be carried around - how much nicer and more dignified for them to be pushed in a chair in their older years.
Team leader, Nigel adds  "It has been a good place from which to run the distribution.  There have been a couple of people wanting to accept Jesus today, and a Muslim man was keen to have the Luganda Bible.
Tweet
!function(d,s,id){var js,fjs=d.getElementsByTagName(s)[0];if(!d.getElementById(id)){js=d.createElement(s);js.id=id;js.src="//platform.twitter.com/widgets.js";fjs.parentNode.insertBefore(js,fjs);}}(document,"script","twitter-wjs");