Dear TTR Office...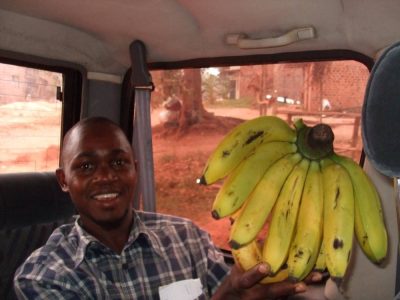 International Missions Manager, Nigel, writes from Uganda:
What a challenge to get the internet!  Anyhow we are doing well.  We have been rather fully programmed by our lovely hosts.  They really are brilliant and a pleasure to work with.  Sunday was good, but very full being out and about all day until late in the evening.  That has made us rather tired and it was telling a bit today on energy levels.  It didn't help being so hot today. I am keen that team members ease up a little, but it is difficult when you are on site with a queue of disabled people waiting.
Today we had a brief visit from the Mayor of Mukono and he made a little speech to thank everyone involved.  The local TV channel had a reporter at site in the morning, and he did a few interviews and filmed with his camcorder.
We are getting to know the hotel staff.  It is a good Christian base and is restful in the main, apart from some exuberant praise and preaching sessions by other guest groups!
On Sunday the church services were excellent with both Eileen and myself preaching.  I was at Pastor Joseph's church in Saalem - a community around a tea plantation out in the rural areas.  Very beautiful, an excellent church coupled with a school and orphanage set up by Joseph.  He has been the provider of our transport and is part of the RILD team.
I must leave it there for the moment - please pray that we might find good rest and refreshment. 
The team is tired. But happy.
Tweet
!function(d,s,id){var js,fjs=d.getElementsByTagName(s)[0];if(!d.getElementById(id)){js=d.createElement(s);js.id=id;js.src="//platform.twitter.com/widgets.js";fjs.parentNode.insertBefore(js,fjs);}}(document,"script","twitter-wjs");