"Exciting and Humbling..."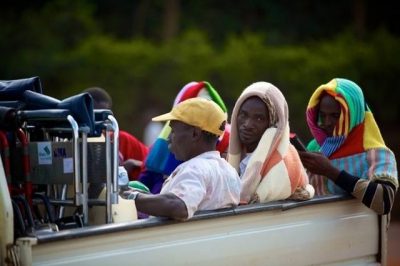 Wheels Uganda trip team member, Linda Head, has sent us a great summary of what's been going on so far:
Y'ello from Uganda at the (very late) end of day two! Team travel – safe, straightforward and uneventful. Praise the Lord! For those of us returning to Africa it's at once exciting and humbling. For our "techie", Graham, it was a whole new experience of sights, sounds, smells tinged with a fair bit of uncertainty – what had he let himself in for? (Perhaps he should tell you another day!)
As well as the transatlantic travel, yesterday took in a good deal of shopping – bibles (two shops), a foam retailer, and a supermarket sweep. The therapist half of the team meanwhile did a recce of the distribution sight – a clinic in the Mukono suburb of Kampala.
Today we began in earnest and what looked like chaos on arrival soon metamorphosed into a productive and efficient working area as we sorted, shifted and ordered everything. All of this took place with the wonderful help of local charity RILD (Response Initiative for Learning Disabilities), who we found to be well prepared, organised, helpful, keen, diligent and very available. Flexibility and thinking on your feet are key to Wheels trips and RILD offered a brilliant and very simple innovation – a piece of string! This yellow string, tied across the huge awning we worked under, kept everything and everyone in their correct place. Sometimes old technology is what's needed (especially true given the difficulties with internet connection – another story!)
We saw 30 people today and I was newly struck by how life-transforming the work of Wheels is. Not just giving people mobility aids but how these items also impact and improve the lives of recipient's families. By working alongside local charities like RILD, we are able to help people access local help for other areas of their lives and the therapists are able to serve the families by offering advice, encouragement and education during the fitting process.
Of all the clients seen today, it was a pair of twins who touched our hearts the most. The girls, aged 8, had 'fallen sick' in their early years – one at two and a half and the other at four and a half. Their 'sickness' had caused severe deformity to their limbs. They arrived carried by their father and elder teenage brother - the latter had given up three years of his education to help care for his sisters. We were delighted to give them a special buggy each.
Tweet
!function(d,s,id){var js,fjs=d.getElementsByTagName(s)[0];if(!d.getElementById(id)){js=d.createElement(s);js.id=id;js.src="//platform.twitter.com/widgets.js";fjs.parentNode.insertBefore(js,fjs);}}(document,"script","twitter-wjs");