"Absolutely fabulous... Can we come back next year please?"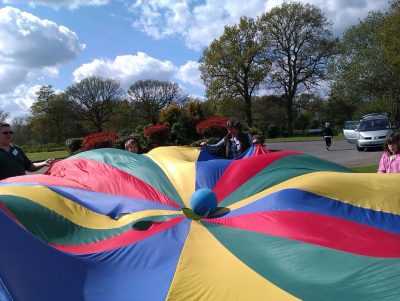 This was a comment from one of the parents at our short break holiday for families with children on the autism spectrum.
The team of volunteer helpers worked tirelessly to provide a full programme of activities for the children, their siblings and parents.  This included visits to Tilgate Park and a leisure pool, a parachute Bible story, discussion groups for parents, lots of craft activities, praise parties and a brilliant puppet show!
Unusually, the weather wasn't so kind to us this year but the feedback has still been extremely positive.  If you have a child on the autism spectrum and would like to express an interest in next year's holiday, please email Margaret at the office and she'll be able to tell you more about it.
A huge thank you to all those involved in planning, organising, supporting, helping, praying...
Tweet
!function(d,s,id){var js,fjs=d.getElementsByTagName(s)[0];if(!d.getElementById(id)){js=d.createElement(s);js.id=id;js.src="//platform.twitter.com/widgets.js";fjs.parentNode.insertBefore(js,fjs);}}(document,"script","twitter-wjs");