TTR at the Stoke Mandeville Festival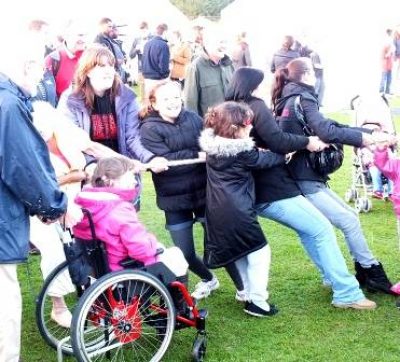 TTR was involved with a community festival at Stoke Mandeville Stadium, celebrating the opening night of the Paralympics. Here's a few thoughts from event organisers, More Than Gold, about the evening.
Finally the rain stopped, the sun broke through and people of all ages and abilities just had fun, at the first ever Paralympic opening night community festival.
The free event, on Wednesday 29th August, was at the birthplace of the Paralympics, Stoke Mandeville Stadium. In keeping, the massive enterprise went the extra mile to be fully inclusive.
Much of the grass was decked with wheelchair-friendly boards. There were opportunities to try Paralympic sport. And a multi-sensory area drew large numbers. Meanwhile, events like the tug of war became open to all, including wheelchair-users.
It had been a nail-biting experience for the organisers, the Aylesbury Churches Network – fourteen churches of different denominations who had planned and funded the event. Torrential rain throughout the day had threatened to bring disaster.
Just in time, the torrents stopped. As the clouds broke, organiser Rev Martin Kuhrt said, 'I hardly believed I'd be standing in the sun and seeing so many people of all abilities having such fun.'
Between leading games of 'What's the Time Mr Woolf' and the 'Hokey Cokey', Marty Woods of More Than Gold told the crowd, 'The great thing about this event is that everyone is equal. Everyone has something to offer, no matter what their ability or disability. Everyone is important.'
Rev Keith Edwards, minister of Aylesbury Methodist Church, said, 'It has been brilliant to see everyone being included. Our team of over 250 volunteers, includes some with disabilities. We just wanted to make people smile and have a fantastic start to the Opening Ceremony of the Paralympic Games.'
One of the volunteers, Lynn Watts, said, 'I saw a partially sighted man, led by his wife, walk across the sensorary path we created of grass, sand and pebbles. It was truly magical to see the expression on his face.'
The Paralympic opening night community festival also included strolling clowns welcoming guests, a vast range of inflatables, human table-top football, arts and crafts, face painting, a free barbecue and a big screen showing of the opening ceremony.
The media attention gained by the event included Channel 4 creating a report for their daily Paralympic breakfast programme.
The Aylesbury Church Network is also responsible for the only Paralympic live site to be run by churches. It will also be used for their annual community Festival in the Park on Saturday 1st August and for a united church service and picnic the following day.
Another report, and some more photos from the day, can be found by following this link.
Tweet
!function(d,s,id){var js,fjs=d.getElementsByTagName(s)[0];if(!d.getElementById(id)){js=d.createElement(s);js.id=id;js.src="//platform.twitter.com/widgets.js";fjs.parentNode.insertBefore(js,fjs);}}(document,"script","twitter-wjs");