Celebrating the Paralympics in Disability Week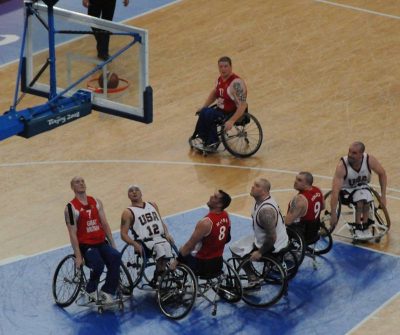 To celebrate the Paralympics TTR is joining with partners in the Churches for All network and Premier Life to promote a Disability Week between the 2nd – 9th September.
The week's 'ceremonies' will open and close with Disability Sundays. Free resources are available to churches include the Disability Sunday pack, 'Redefining Ability' (Follow this link to visit the CFA site and read Redefining Ability).
Churches will also be encouraged to reach out to their local disabled people in their local communities through a Luke 14 banquet (Follow this link to read about the Luke 14 banquet).
Premier radio will interview our CEO, Tim Wood, on the morning of the Opening Ceremony (29th). They will also feature short audio 'thoughts' on disability every day that week, including one from TTR's Youth Ambassador, Philippa Woodcraft, whilst TTR's Youth Manager, Alan Whetherly will join their Breakfast show at 9.00am on the 9th.
(Photo by Flickr user 'Jonas in China' -- his photos from Paralympics 2008 can be seen byfollowing this link)
Tweet
!function(d,s,id){var js,fjs=d.getElementsByTagName(s)[0];if(!d.getElementById(id)){js=d.createElement(s);js.id=id;js.src="//platform.twitter.com/widgets.js";fjs.parentNode.insertBefore(js,fjs);}}(document,"script","twitter-wjs");