Festival time!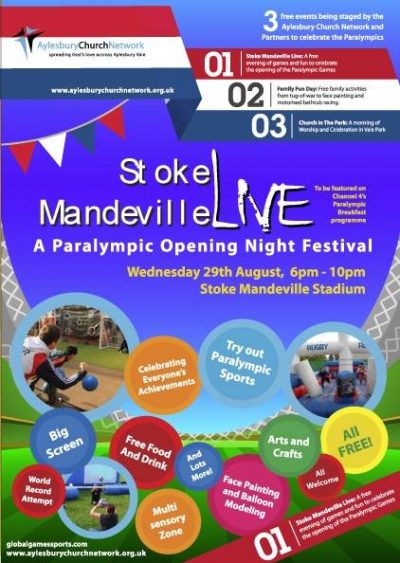 Join us at a once-in-a-lifetime event
A unique community festival is taking place on Paralympics opening night (29th August, 6 – 10pm) at Stoke Mandeville Stadium.  Organised by Aylesbury churches and supported by Fusion Youth and Community and More Than Gold, with input from Through the Roof, there will be various zones including: disability sports; arts/crafts; multi sensory; chill-out; face painting; puppets; inclusive collective games and plus free food.  The opening ceremony will be broadcast on the big screen at 8.00pm and Channel 4 will feature the event on their Paralympic Breakfast Show.
The festival is committed to inclusivity for all and aims to ensure, wherever possible, that disabled people are provided for.  It will offer: allocated parking; step-free access; individual chairs; a loop system; sign language interpreters; inclusive Paralympic sports e.g. sitting volleyball, goalball; appropriate activity zones e.g. multi-sensory and chill-out; subtitles on screen; and trained, supportive volunteers with a welcoming, can-do ethos.
If you are someone living with disability, or know of someone who is, why not encourage them to join us for this once-in-a-lifetime event?
For more information on the event, please go to the Aylesbury Church Network website.
Tweet
!function(d,s,id){var js,fjs=d.getElementsByTagName(s)[0];if(!d.getElementById(id)){js=d.createElement(s);js.id=id;js.src="//platform.twitter.com/widgets.js";fjs.parentNode.insertBefore(js,fjs);}}(document,"script","twitter-wjs");