Anne Wafula Strike - Christian Paralympian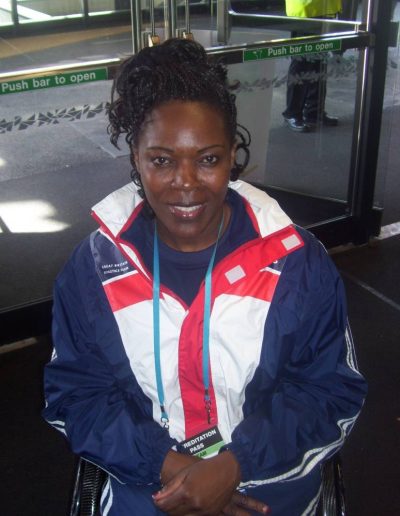 Anne Wafula Strike was born in Kenya and contracted polio aged two. After a life walking with crutches and callipers, she got her first wheelchair when she was pregnant. She discovered wheelchair sports and competed for Kenya in the 2004 Paralympics, making the 400 metres final in the T53 classification 400 metres – the first East African to compete as a wheelchair racer in the Paralympics.
Anne says of the experience, "Being in Athens was like a new chapter in my life, one that I was going to live and celebrate for a long time. When I was on the starting line and heard the announcement, "Anne Wafula, representing Kenya", I was so proud to be there representing my nation on the world stage".
In 2007 she won a bronze in the Paralympic World Cup and fourth place in the World Championships. In 2008 – now living in England - she missed out on selection for the GB team for the Beijing Paralympics by 0.1 seconds. She said, "It was so hard not to make the team after working 4 years. But as a Christian, I believed that God had a purpose for me – whether to win a medal or not get to the start line. And when I missed out on selection, my faith supported me. The experience made me a stronger person".
Her relationship with Jesus is central to who she is: "Having Jesus in my life puts a smile on my face every day. It is a smile that is from within. When people see the smile on my face, it is the glory of God. People don't just see Anne. They see Anne who is covered in the glory of God."
Anne is hoping to make the GB Paralympic team for 2012.
Please join Through the Roof in praying for Britain's Christian Paralympians. This information has been provided by teaming up with our friends at Verite Sport who promote a Christian presence in sport based on the teachings of the Bible.
Tweet
!function(d,s,id){var js,fjs=d.getElementsByTagName(s)[0];if(!d.getElementById(id)){js=d.createElement(s);js.id=id;js.src="//platform.twitter.com/widgets.js";fjs.parentNode.insertBefore(js,fjs);}}(document,"script","twitter-wjs");